Why are Spaniards the only people in Europe obsessed with window blinds?
Spain enjoys plenty of hours of sun, yet apartments and houses are often completely shut off to natural light. Why is this?
"It's like Spaniards are afraid of light," says Caroline Jurgens, a 42-year-old Dutch woman who has been living in Spain since 2005. One of the first things that surprised Jurgens when she arrived from Amsterdam to Spain was the number of homes with the shutters down.
You have to put up a barrier ... so you can do what you don't want others to see you doing Sociologist Juan Carlos Barajas
"They pull them down all year long, even in winter even though it's not so hot. The Dutch do the opposite: we need light all the time," she says.
While the use of shutters in Europe is only anecdotal, here in Spain they are part of popular culture – and almost always kept down. And it's not just because Spain receives more hours of light – between 2,500 and 3,000 hours in an average year, compared to the 1,600 in countries such as the United Kingdom or Holland. There are other, more interesting reasons.
Any Spaniard who has traveled to a country in central Europe can testify that the daily life of their neighbors can be seen through the windows. This open display, without shutters or curtains, would not be possible back home. "In Spain, customs from Arabic culture continue to be deeply entrenched, like living toward the inside of your house, keeping the interior pretty, such as the central courtyard, and peeking out through the window pane," says Jurgens.
It is a stark contrast to the Calvinist idea, common to protestant countries in the center of Europe, that a house should be kept open "to show the honesty of its guests and proving you are not afraid of showing if you are rich or poor." "For the Dutch not having shutters (or the curtains open) shows a willingness to share information, to say we have nothing to hide," explains Jurgens.
In Spain, the shutters industry is dominated by family businesses – most of them from the Levante area – such as Persax. This company, founded in 1976, sold €21.5 million-worth in shutters last year. Interestingly 40% of this was from foreign exports.
While Spaniards are known for being open people, they are protective of their private life. They may be friendly with their neighbors but they are unlikely to invite them in for a cup of tea. "The more they are in the street, the better they get to know their neighbors," says Juan Carlos Barajas, sociologist and author of the website Sociología Divertido (Fun Sociology). "Because of this greater closeness, there is more interest in learning about other lives and less interest in letting others know about theirs. That's why they have to put up barriers."
And that's where religion comes in. "Catholic ethics imply a greater concern for what will be said, for showing irreproachable conduct according to what is socially expected of you, for doing your dirty washing inside," he adds. "So you have to put up a barrier – shutters and curtains that separate your house from the outside so you can do what you don't want others to see you doing." And in contrast to popular opinion, according to the Healthy Homes barometer from Veluz, Spaniards spend 90% of their time inside – most of that at home.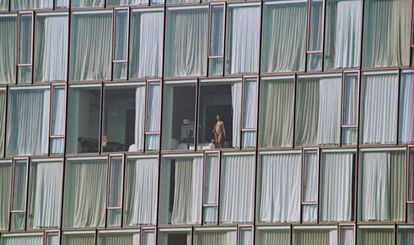 The issue of what neighbors get up to at home has even even raised legal issues when it comes to shutters. Following the example of the nosy neighbor in Alfred Hitchcock's Rear Window (1954) could lead to problems. At hotels like The Standard in New York's meatpacking district, which has wall-to-wall glass windows, it's common to see people looking up from the street to catch a glimpse into the rooms of scantily clad guests. Websites such as Visual Hunt are filled with intimate scenes taken from the outside of the hotel.
Last February, a 70-year-old man wrote a letter to the property section of The New York Times explaining that a neighbor had accused him of exhibitionism in his own house. "The neighbor likely saw me naked early in the morning when I go to the kitchen to boil water," he wrote. Perhaps this problem could have been solved with some curtains or shutters, although in Spain, according to Leandro Núñez, an expert in privacy law at the firm Audens, "nudism isn't prohibited, it is regulated according to municipal by-laws, but everyone can get naked freely in their houses."
English version by Melissa Kitson.