Meet the muscle men charging €2,000 to remove squatters from your home
Property owners are turning to extreme measures to protect their properties, and avoid lengthy legal battles that can take months to go through the Spanish courts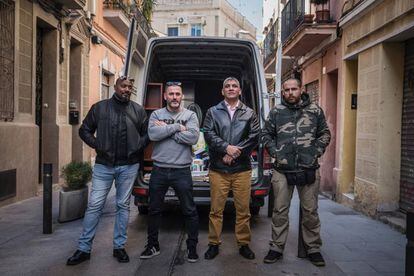 Jaime Sanz stands outside a building in Madrid with his muzzled German Shepherd. On the other side of the door is a couple with a young child who have been illegally occupying the home for three months. They can't pay the rent and they don't want to leave. That's where Sanz comes in. His business, Desokupación Legal – or Legal Eviction – specializes in express evictions. Sanz is one of a handful of men cashing in on the housing crisis in Spain, where more than 260,000 people are living as squatters, according to the Cerdà Institute.
They are not police officers or judges. Nor do they have eviction orders to back them up. They are muscle men who work on the edges of the law. For €2,000, fighters, ex-prison wardens, nightclub doormen and even former Eastern European paramilitary members offer to do in record time what the Spanish justice system takes months to complete: an eviction.
I am not going to say they are illegal but they are para-legal. They are on the fringe Police spokesperson Serafín Giraldo
Two years ago, Pedro, who prefers not to use his real name, received a call from a neighbor he hadn't seen in 20 years. She told him: "The people who have rented your apartment are a little strange." But stranger still was that Pedro, who had been living overseas for over a decade, had not rented out the place to anyone since his parents died.
From his old neighbor, he learned that three young people had falsified a rental contract, changed the locks and occupied his family home in the Sagrada Familia neighborhood in Barcelona. "If someone had told me they needed the place, I would even have been able to lend it to them. But not like this," he says.
Pedro was on the point of storming into the apartment but the police warned him there was nothing he could do. His lawyer estimated that it would take eight months to resolve the situation. Then he learned of an alternative option.
That's how Pedro met Dimitri from Bosnia Herzegovina. For €350 plus expenses, Dimitri and three of his colleagues pulled up in a van outside the building and "politely asked" the squatters to get in the vehicle. They took them for a drive and in "less than 24 hours there was a new lock on the door and an empty flat," says Pedro. "The house was stripped clean, looted, and they had filled it with bags of fertilizer to set up a marijuana plantation, I imagine," he explains on the phone.
Since then, the industry has become a lot more professional. Close to a dozen companies now promise fast and legal evictions online. And thanks to the housing crisis, the spike in rental prices, a growing number of drug gangs taking over empty homes and the lack of social housing, business is booming.
One of the most polemic figures from the burgeoning industry is Daniel Esteve, the boss of Desokkupa, who brags: "No one does it like me. I have a gift." But while the former boxer and bounty hunter is swamped with requests, he isn't always successful. One of those cases was Marta Domènech, a 47-year-old who had occupied her family home for years after a bank repossessed it from her parents when her father was dying of cancer. "I had separated, I was very affected by the death of my father, I didn't have a job and I returned home," she explains. On September 9, 2016, Domènech received a call while she was out: "This is Daniel from Desokkupa. Don't come home because we will not let you enter. You are being watched and we have an alarm in place," she remembers him saying. "I began to shake with fear."
This was a process for a judge to resolve Marta Domènech, occupant threatened with eviction
Two men from Desokkupa were at her door. They changed the lock and let four representatives from the real estate agency enter. They tried to install an alarm but the Catalan regional police arrived and forced them to leave. Domènech and her daughter watched terrified from the street. "This was a process for a judge to resolve," she says. Domènech accused the company and the real estate representatives of forced entry, duress and "arbitrary application of the law" – taking the law into their own hands.
The heavy-handed tactics of the companies such as Desokkupa have been criticized by squatter collectives, housing platforms and even the mayor of Barcelona, Ada Colau, who declared war against the legally dubious businesses.
Many of the conflicts are resolved by paying the unwanted occupants to leave. But when no agreement can be reached, the companies post staff on the door so that when a squatter leaves, they won't be able to get back in. Sooner or later, those inside end up leaving – either to buy much-needed groceries or in the case of narco apartments because the presence of two security guards – sometimes with guard dogs – is bad for business.
Legal or illegal?
There is no consensus on whether these methods are legal. In some cases, the police are known to actively support eviction operations, while other police officers argue the process is illegal.
"I am not going to say they are illegal but they are para-legal. They are on the fringe," says the spokesperson of the federal police union (UFP) Serafín Giraldo.
"In an ideal world, what I do would not exist," says Sanz. "If the justice system responded efficiently I would have to reinvent my business. But this ideal world doesn't exist here."
English version by Melissa Kitson.