Madrid art fair pulls work describing jailed Catalan leaders as "political prisoners"
Artist Santiago Sierra calls the decision "an anachronistic and exotic act of censorhip"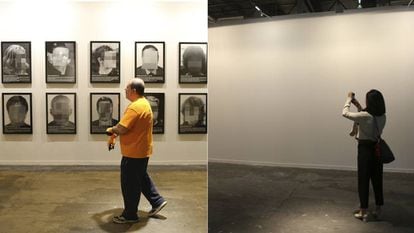 A decision by Spanish organizers of a leading contemporary art fair to take down a piece titled "Political prisoners in contemporary Spain" has sparked public expressions of incredulity, outrage and support, as well as accusations of censorship.
The piece was created by Santiago Sierra, an artist with a long history of provocative works, and it is made up of 24 pixelated portraits of many individuals whose identities are revealed by accompanying texts. These include Oriol Junqueras, head of the pro-independence party Catalan Republican Left (ERC), who is currently in pre-trial detention in Madrid in connection with a rebellion probe against leaders of the failed secession bid.
Unfortunately these are not isolated events
Reina Sofia director Manuel Borja-Villel
Two other men in the same situation, Jordi Sànchez and Jordi Cuixart, who headed civic associations that lent support to the independence bid, were also included in the series of portraits.
The work was on display for a few hours at Arco, a leading art fair that is being officially inaugurated on Thursday by the king and queen of Spain. On a day reserved for professionals, the piece's reference to "political prisoners" caused a stir, and shortly thereafter workers were sent to take down the installation.
In a release, managers of Ifema, the convention center that hosts Arco, said that "the controversy created in the media by the exhibition of these pieces is hurting the visibility of the rest of the exhibits." As the fair organizer, Ifema said it had the responsibility to ensure that attention is not drawn away from the art show as a whole.
On Thursday afternoon, Ifema issued a release apologizing for the move, but stopping short of asking the gallery owner to put the installation back up.
Sierra, a provocateur
Sierra is known in the art world as a provocateur who rejected the 2010 National Fine Arts Award and its €30,000 prize, and sold his own rejection letter for the same amount at Arco. In 2006, the German city of Pulheim decided to shut down his installation 245 cubic meters, a simulated gas chamber inside a synagogue that had been converted into a cultural center. And in 2000, in San Juan (Puerto Rico), he paid two heroin addicts to let him shave a 10cm line on their heads in exchange for a dose.
"We lament and sincerely apologize for the controversy that erupted as a result of the request for a gallery to take down an artwork, a decision that in no way aimed to censor creation, even if public perception viewed it that way. There was no bad faith, and we accept the criticism, and understand that in future we must avoid any circumstance of a similar nature," said the statement.
Arco director Carlos Urroz confirmed that this is the first time in Arco's 37-year history that an artwork has been pulled.
In statements to this newspaper, the artist called the decision "an anachronistic and exotic act of censorship." Asked if he believes that there really are political prisoners in Spain, Santiago Sierra answered affirmatively.
"That is exactly what I'm saying, yes. And I don't see why I can't say it, and I don't know who Ifema think they are to shut my mouth, or to tell [gallery owner] Helga de Alvear what she has to show in her gallery," he said. "This is all really insane, but it seems perfectly normal. Nobody gets fazed anymore. Persecution for reasons of conscience has become normal."
Gallery owner Helga de Alvear, one of the most powerful names in the Spanish art world, said that Sierra's piece has just been sold for €80,000 to "a gallery owner acting on behalf of one of his clients." This newspaper has confirmed that the buyer is a Catalan businessman named Tatxo Benet, a partner at the media conglomerate Mediapro. His goal, as he later said on the Catalan TV station TV3, is for "as many people as possible to see it. I am making it available to any gallery or museum in Spain willing to display it."
Pathetic and biased
Political reaction to the news was swift. The city of Madrid, which is run by the leftist Ahora Madrid coalition, said that it "does not share the decision" to pull Sierra's work. Mayor Manuela Carmena called it "pathetic" and "biased." But the Socialist spokeswoman in Congress, Margarita Robles, supported the move: "Anything that helps reduce the tension has to be appreciated," she said. The regional government of Madrid, under Popular Party (PP) control, also backed the decision.
Ciudadanos official Carlos Girauta criticized the decision because art "is fiction, and it has room for everything." Podemos leader Pablo Iglesias warned that "this is not compatible with democracy," while Joan Tardá, a national deputy for the Catalan Republican Left, talked about "censorship."
In the art world, Reina Sofia museum director Manuel Borja-Villel said it was a cause for "concern" and added that these "are unfortunately not isolated events." Ferran Barenblit, head of the Macba museum, agreed: "The subject matter is the least of it. I think the fair has to guarantee freedom of expression, not the right not to be offended."
English version by Susana Urra.