CELEBRITY STALKING
The 21 actresses unaware they could be a stalker's next target
Questions asked after court fails to inform or protect women who appeared in scrapbook kept by Arndt Meyer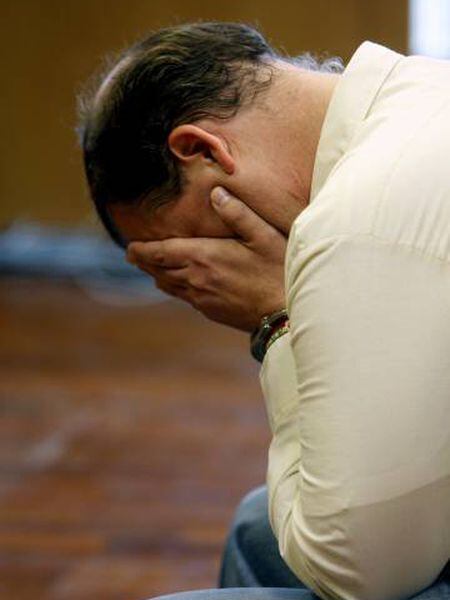 Arndt Meyer, the celebrity stalker who was deported to Germany after serving eight years in a Spanish prison for the attempted murder of Spanish actress Sara Casanovas, had been secretly collecting photographs of 21 other actresses from his jail cell, a police report shows. Eighteen of the women in question are Spanish.
Pictures of another eight actresses that showed up in the inmate's scrapbook were already known about, and these women were informed by a court at the time of the potential danger.
But these 21 other women were not informed that they appeared in the stalker's scrapbook, and have not been granted any kind of protection by the Spanish courts.
Some of these women attended the recent Goya Awards – Spain's equivalent of the Oscars – while still unaware that they could be potential targets of a psychopath, as EL PAÍS confirmed after speaking with them.
Spanish actress
"I don't understand why we weren't warned about such a serious circumstance," said one actress.
"I know Sara Casasnovas. I know how she has suffered over this case. I never imagined that I was in the scrapbook, too. Why did nobody tell us?" said another.
Attacker Arndt Meyer, a German national, was deported to his home country in late May 2017 after serving eight years in a Spanish prison for trying to use a crossbow to kill Sara Casanovas outside the Reina Victoria Theater in Madrid in June 2009.
Some of these women attended the recent Goya Awards – Spain's equivalent of the Oscars – while still unaware that they could be potential targets of a psychopath
Lawyers for Casasnovas and prosecutors have asked the judge in Arganda del Rey (Madrid) to reopen the case, after it was provisionally shelved in July of last year. They are also requesting that sensitive data about potential victims be deleted from the court records. The full names, addresses and telephone numbers of the 18 Spanish actresses that Meyer apparently obsessed over show up in a document sent by the Spanish Interior Ministry to the judge in charge of the case.
Before his deportation, eight actresses appeared in a Madrid court to be informed that their pictures had been found in the scrapbook, which was kept by the convict inside his prison cell, suggesting that they might be targets as well. Security measures were taken to protect these women's identities.
Deported
Meyer was deported to Germany in May on orders from the Spanish government, after this newspaper revealed the existence of the scrapbook.
Spanish authorities delivered the 48-year-old, who suffers from a personality disorder, to the German police. Sara Casasnovas' lawyer, Carlos Castresana, said that Interpol would keep tabs on his whereabouts, and that his name would be included on a register of sex offenders.
But Castresana and the public prosecutor feel that the investigation should not be dropped, and they have asked to take witness statements from Schultz R., a worker at a religious non-profit with ties to the German embassy in Spain. Schultz paid regular visits to Meyer in prison, and he is the person who allegedly sent the convict photographs of the actresses.
"The court has decided to dismiss the case in a manner that is as abrupt as it is unjustified," said Castresana in his appeal. "It has failed to conduct numerous proceedings requested by the prosecutor."
Facebook, Yahoo fail to cooperate
Before Meyer's release and expulsion from Spain, Sara Casasnovas had reported that there was a Facebook page featuring 80 photographs of herself as she appeared in a scene from a play: bound and gagged. The account was closed, but despite a court requirement, neither Facebook nor Yahoo have released the identity of the individual/s behind the account or the email address alfredosanchez680@yahoo.es, which sent out similar messages.
Lawyer Carlos Castresana said he will file a request for Facebook and Yahoo in the United States to facilitate these names. Among the 29 actresses that Meyer showed an interest in, four of them are residents of the United States.
The lawyer underscores the potential risk to all the actresses whose pictures were found in the scrapbook, which also contained handwritten comments "of a highly sexual, morbid and derogatory nature, suggesting actions to approach and harass these women."
Some of the notes included the following: "This must be the face of the woman of my life." "Ana's body, skin and type are exactly my type." "I don't like her features for my children." And: "All I wanted from her is a foothold into the world of television so I could meet the women I really like."
Prison authorities had described the inmate's attitude as "obsessive" and warned that he was "extremely dangerous."
"The police say they have failed to locate Schultz's home, yet his address shows up in the court records," says the lawyer about the embassy aide who gave Meyer the photographs.
English version by Susana Urra.