#MeToo Spanish-style: Women in arts prepare to speak out about sexual abuse
A group called Pandora's Box is gearing up to name and shame perpetrators of sexual harassment in Spain
#MeToo, the global campaign against sexual harassment popularized by high-profile women in Hollywood, has reached Spain via a collective known as Pandora's Box. The group, made up of 3,000 Spanish women who work in the arts, has announced it too is preparing to take action against perpetrators of sexual abuse in their own country.
In a private Facebook conversation, members of Pandora's Box regularly share their experiences of sexual abuse, intimidation, abuse of power, sexist attitudes and unwanted attention. Others listen, give advice, and offer support. Right now, the information is private, but the group has warned they are ready to expose those who have been repeatedly accused by their members – when the time is right.
Pandora's Box was created last summer after artist Carmen Tomé accused curator Javier Duero of sexual harassment
Art curator Susana Blas is leading the current charge, but any one of the group's members can be a spokesperson. There is no hierarchy and all decisions are made in community assemblies.
Pandora's Box was created last summer after artist Carmen Tomé accused curator Javier Duero of sexual harassment. According to Tomé, Duero groped her in the bathroom of the cultural center Las Cigarreras in Alicante, where he had been invited to take part in artistic workshops. In a public speech that was live streamed, Tomé read her police testimony against Duero, explaining how he had abused "his power within the world of art, as a critic, curator and cultural mediator," and describing him as "a person who could open or close doors to any artist." According to her police testimony, half-an-hour after abusing her, "they met again and he apologized: he had spent a long time without seeing his partner and he was going crazy." Duero has denied the charges. The case remains open. "She will not be alone at the trial," Pandora's Box assured.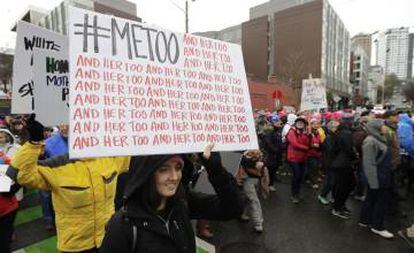 "What's great about this group is that it has collected lots of testimonies from women of all ages, some old, some not. Even if they are not directly affected, museum directors and curators, as well as artists, belong to the group. And we have a network for Latin America." The enormity of the network surprised them at first: "There is a lot of pain and awful cases that have we have referred directly to a psychiatric consult because they were in need of help," says Blas.
But why have they not gone public, like the #MeToo movement in the United States, following the lead of actresses who have broken their silence and exposed their abusers? "We are taking our time, we want to change structures and we are at a stage where we are collecting information, confessions, because we know cases where the women went to court and won but despite this they had to leave university because, for example, their aggressors were still there. We want to take our time," says Blas.
Trials and lawyers
Members of the group, pandoras as they like to call themselves, are in need of funding. "At the moment each one of us puts in a euro but there are others who put in more. It's about taking on trials, lawyers... Our efforts are focused now on Carmen Tomé's case."
According to Blas, the group wants to "empower women so they don't feel alone against abuse. Something that we have already achieved is that every day a woman is waking up and realizing she is being abused. Many of them are adopting a fighting spirit because now they are not alone."
Blas says that while the group does not have a very formal structure it is already beginning to have an impact.
The group wants to "empower women so they don't feel alone against abuse"
"The fact we exist is already instilling fear in those who have something to hide. And we are already seeing some things change, like museums that are programming more works by women. At the Arco fair, for instance, last year between 4% and 7% of invited artists were women. This year women are on the organizing board and we will see the figures." According to Article 26 of Spain's Equality Law, in cases such as this both men and women should be paid for their work, something that hardly ever actually happens.
English version by Melissa Kitson.