Key Catalan ideologue met with Julian Assange in London
Spanish foreign minister sees evidence of "attempt to affect natural democratic course of events in Catalonia"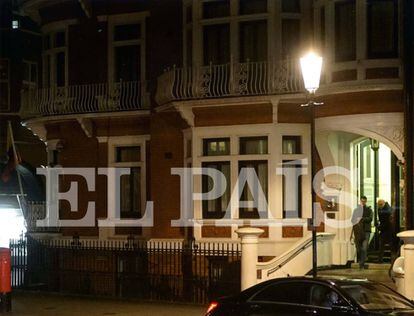 Oriol Soler, a Catalan entrepreneur and publisher who has been one of the leading ideologues of the secessionist movement, met with Julian Assange on November 9.
Soler himself has confirmed to EL PAÍS that the four-hour meeting with the WikiLeaks founder took place inside the Ecuadorian embassy in London, where the activist has been taking refuge for more than five years to avoid extradition to the United States.
Through social media, Assange has disseminated thousands of messages and disinformation supporting the Catalan independence drive.
The goal of the WikiLeaks founder is not so much helping Catalonia achieve independence as using it as a destabilizing tool
Spanish Foreign Minister Alfonso Dastis said there is plenty of evidence that Soler and other individuals are "trying to intervene, manipulate and affect what should be the natural democratic course of events in Catalonia."
Dastis made this statement right before walking into a meeting of ministers in Brussels to discuss, among other things, Russian interference in European democratic processes.
Soler denied that his meeting with the highly influential cyberactivist was meant to pave the way for the communication campaign ahead of the December 21 election in Catalonia. Even though secessionists have described this early election as illegitimate, based on the fact that it was called by Spanish Prime Minister Mariano Rajoy using emergency powers under Article 155 of the Constitution, they have nevertheless embraced it in a bid to turn the vote into a show of force.
Assange's name cropped up in connection with Catalonia in late August, when he began to post tweets criticizing Enric Hernández, the editor of the Catalan daily El Periódico, which ran an exclusive revealing that US intelligence services had warned the Catalan government about the risk of a Jihadist attack on Barcelona's popular Rambla thoroughfare – where an act of terrorism took place on August 17.
Since then, the cyber-activist has been intensely involved in the secessionist crisis, posting disinformation supporting the independence drive and attacking the Spanish government.
On November 9, Soler walked into 3, Hans Crescent, which is the world-famous hideout of a man wanted by the US justice system for leaking thousands of secret diplomatic cables through the website WikiLeaks. Soler was in the company of Andreu Grinyó, who is marketing director for the online supermarket Ulabox, an expert in online communication campaigns, and a supporter of the Catalan independence movement.
All three talked for around four hours, between 5pm and 9pm Spanish time.
Asked about the content of the meeting, Soler gave the following answer: "We Catalans have also suffered electronic and physical espionage, censorship, judicial irregularities, arrests, extradition attempts, prison, exile, financial blockades, fake news, counter-propaganda, just like Julian Assange, and we shared our vision of the moment."
Soler has had intense ties with the Catalan secessionist movement for many years. He was one of the founders of a newspaper called Ara – which he currently has no link to – and he heads SOM, a cultural cooperative that owns a producer named Batabat. It was Batabat that came up with the Help Catalonia. Save Europe video that was shared on social media by the pro-independence civic association Òmnium Cultural. In it, an actress adopted a melodramatic tone to make a series of inaccurate statements about police action during the unconstitutional referendum of October 1. The video has since been widely parodied by everyone ranging from Catalan non-nationalists to Andalusians.
Destroying the institutions
Soler is a key member of a group that has been working behind the scenes to design secessionist strategy in Catalonia. It was he who led the communication campaign for the non-binding referendum held on November 9, 2014, and it was also Soler who headed the promotional work for the October 1 vote this year.
He is also credited with the effort of bringing together disparate political forces under the shared goal of secession: the center-right PDeCAT, the Catalan Republican Left (ERC) and the far-left, anti-establishment CUP.
The goal of the WikiLeaks founder is not so much helping Catalonia achieve independence as using it as a destabilizing tool to further his own goal of triggering a generalized social revolution that will destroy national state institutions and lead to a new model of society. Assange described it himself on September 26 in a video conference that was organized by pro-independence university movements and by young political activists at Barcelona University.
This clash of Catalans with the Spanish state is a determining factor in the history of the West, he said to an audience of around 300. "Where Catalonia goes, other states will follow."
English version by Susana Urra.