'Dreamers' in the US: "Today is the day we rise up"
The Trump administration's decision to end the so-called DACA program sparks widespread protests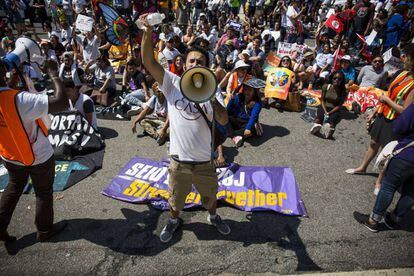 New York / Washington / Los Ángeles / Miami -
Similar scenes played out in Washington D.C., in front of the White House, on 5th Avenue in New York City, and in front of the Freedom Tower in Miami. This was the first wave of protests by groups that have been fighting for immigrants' rights for decades, and they will continue their demonstrations in cities across the country. EL PAÍS heard some of their stories on this miserable morning.
Miami
"We are not going to give up. Trump awoke a sleeping giant," says María Angélica Ramírez, a 30-year-old Colombian, who arrived in the US 16 years ago and is a beneficiary of the DACA program.
The 11 million undocumented people are not going to let Trump drag us through the mud while he sits in his golden chair

Armando Carrada
With 90,000 people, Florida is the state with the third-most DACA beneficiaries, after California and Texas. The protest took place at the entrance of the Freedom Tower, one of the city's first skyscrapers, and which once served as a welcome place for Cuban exiles in the 1960s.
Armando Carrada, 27, arrived in the United States at the age of seven, crossing the Texas border without papers with his mother, aunt, and sister. His family came from Oaxaca, Mexico's poorest region. As for Trump, he says: "He wants to scare us, but we won't let him do it." Carrada said that for the foreseeable future, he still sees himself in the United States. "The 11 million undocumented people in this country are right in front of you and we are not going to let you drag us through the mud while you are sitting in your golden chair," he says.
Washington D.C.
Diego Quiñones is on a hunger strike. He arrived in the United States from Guadalajara, Mexico at the age of seven and has not returned since. At 27, he has an American girlfriend, and works at a wood pallet company in Arkansas. Last year he was a fellow in the Democratic Senator Bob Menendez's office in Washington. But in six months, he could be deported.
In front of the gates of the White House, wearing a Real Madrid shirt, Quiñones believes his cause is fair. "We create jobs, we open businesses, we are doctors, engineers; this is something that does not make sense," he says. If Congress is not able to pass a law that protects dreamers in the next six months ­­­­­– the timeline set by the White House – Quiñones will try to stay, even if it is illegal.
The leaders of several social organizations told the media that their "struggle" is just beginning. "This president lied to us. For months he said 'I love the dreamers, I have a great heart for dreamers.' Remember how his campaign started, he said we were rapists and criminals. We will not forget it," said Gustavo Torres, president of CASA, an organization dedicated to the legal defense of Latinos.
New York City
The dreamers made their voices heard at Trump Tower. Fifth Avenue was closed off to vehicle traffic temporarily at midday. Gloria Mendoza has spent 23 of her 26 years in the US. This Brooklyn artist recalls the fear her parents felt when she signed up for DACA – that the documents could betray them in the future and put them all in danger. "They now know where I live, where I studied, and who my family members are," she says. "But I think it was a very big step for our community."
These young dreamers are hopeful that Congress will agree on an alternative plan, although they concede that six months is a short time, because there are multiple other political battles ongoing.
Los Angeles
One in four DACA beneficiaries lives in California. Two hours after the government's announcement, Melodie K., leader of the dreamers' movement in Los Angeles, said it was "a day of shame for America." Dozens of activists gathered in front of the city's federal courts to protest against the decision and planned a major protest for that night.
This president lied to us

. We remember how his campaign started and we will not forget it

Gustavo Torres



There were tears, "not of sadness, but of rage," according to Yamileth, who came to the US at age seven. "My father was murdered and my mother had no other choice but to come," she says. "Staying in Guatemala would have meant being raped or worse, so she risked it and came." These are the situations to which these immigrants could be sent back to if they lose their protection.
Melodie K., 23, who came from Guatemala at nine, got a master's degree in NGO management. But now she is asking herself: "What good is it if I lose my papers?"
English version by Debora Almeida.