"Immigrants have nothing to fear if they haven't broken the law"
Carlos Giménez, mayor of Miami-Dade, now following order to hold detainees sought by federal authorities
On January 26, Carlos Giménez, the mayor of Miami-Dade, ordered correctional facilities to comply with federal immigration requests, and to detain people that were being sought for up to 48 hours. The move brought to an end the county's position as a "sanctuary city" for immigrants in the country illegally, something that dated back to 2013. Under Giménez, a Cuban-born immigrant, Miami-Dade had refused to detain such immigrants, not on principle, but because the federal government didn't fully reimburse the county for the expense.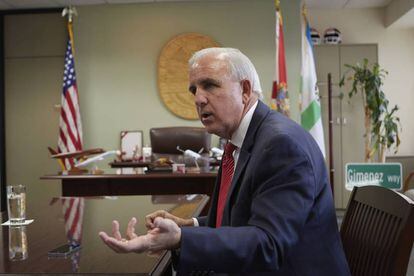 Now, fearing a cut in federal grants from the Trump administration, Giménez has been forced to make his most controversial decision since taking office in 2011, laying him open to the charge of betraying Miami's long-standing tradition of welcoming Latino migrants. Speaking from his office in the city, the 63-year-old Republican defends his decision on pragmatic grounds, insisting that his police officers will "never" take part in rounding up undocumented migrants.
Question. You've been labeled the first mayor to obey Trump.
Answer. That isn't true. All I've done is to give the order that we don't have to have the government's guarantee that it will pay us for those 48 hours. I am not in favor or against what Trump did. Furthermore, he has simply followed the course set by the Obama administration, which classified Miami-Dade as a sanctuary, saying that we were in danger of losing federal funds for not doing what he wanted.
We  accept more immigrants and refugees than anywhere else in the world
Q. But you gave the order after Trump's warning.
A. We were already working with the previous administration to try to get out of that situation, knowing that this would get serious when Trump took over. And Miami-Dade has never wanted to be a sanctuary county. From now on, immigration will tell us if it is interested in people we have detained, for committing a crime in the county, not for being undocumented, and we'll hold them for 48 hours. I don't see anything extraordinary in this.
Q. Could this lead to people who have been arrested for minor offenses being deported?
A. The effect will be limited. The list of people arrested in Miami-Dade in recent weeks that Immigration is interested in suggests that these are people who have committed serious crimes and were not first-time offenders. They've been on the federal government's radar for some time.
Q. What is your message to undocumented immigrants?
A. Undocumented immigrants have nothing to fear in Miami if they have not broken the law. And in the case of minor offenses, we don't arrest, we issue fines. But if they commit a crime, then they will be arrested, like anybody else. But we're not talking about arresting people for walking down the street.
Q. Will local police be taking part in round-ups of undocumented migrants?
A. Trump's executive order talks about wanting a deal between the federal and state governments to turn the police into immigration officers, but we're not going to do that. Our police are not going to be immigration officers. We have never done that and we're not going to in the future. But I can't tell you what the federal government might do because nobody knows.
Miami-Dade has never wanted to be a sanctuary county
Q. How do you feel when people say you've turned your back on immigrants?
A. What bothers me is when they try to trick people so as to agitate a section of the community, to create chaos, to create fear for political reasons. They know very well what has happened, and that it isn't much.
Q. Are you talking about people from the Democratic Party?
A. There are people from the Democratic Party, as well as anarchists and activists who want to turn Miami-Dade into something it never was, which is a sanctuary county. I issued that directive because I don't want to lose hundreds of millions of federal dollars that held the 2.7 million people in our county. There will always be a 20% to 30% who are not happy with what you do. That's politics. But I don't regret the decision and would make it again.
Q. What do you remember about arriving in Miami as a child?
A. I didn't come here by plane from Cuba. There were more than 20 of us living in the same house. My father started working in Miami Beach carrying suitcases and my mother as a secretary, because she spoke English. That's how we started out here.
Q. Do you think the idea of the United States as somewhere that offers refuge to people looking for freedom and the chance to make a new life is in danger?
A. No. We are a nation that accepts more immigrants and refugees than anywhere else in the world. More than a million each year. That isn't being dismantled.
English version by Nick Lyne.