Spain's Rajoy tiptoes around graft case at special session of Congress
Prime Minister avoids discussing Gürtel and defies opposition to mount a censure vote against him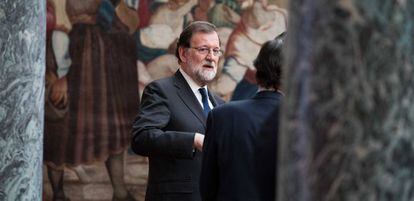 Speaking at a special session of Congress convened to discuss the Gürtel corruption case, Spanish Prime Minister Mariano Rajoy on Wednesday avoided the topic altogether and instead focused on terrorism, Catalan independence and economic recovery.
"Reform is more effective against corruption than reproach," said Rajoy, whose center-right Popular Party (PP) has been engulfed in a series of high-profile graft cases involving bribes for political favors.
Rajoy, who was forced to take the witness stand last month at the ongoing trial over a massive bribes-for-contracts scheme known as Gürtel, was called to the lower house on Wednesday as a result of a joint congressional initiative by the Socialist Party (PSOE) and Podemos, with backing from the rest of the opposition.
You are a prime minister under suspicion
Margarita Robles, PSOE spokesperson
The prime minister has described this initiative as "a political trial" and decried the opposition's "inquisitorial zeal" in going after him. He also challenged them to mount a censure motion against him.
After noting that he has already spoken in Congress on 52 occasions about his party's involvement in corruption cases, Rajoy reminded lawmakers that there are currently two parliamentary committees exploring cases of political graft.
His main message was that the real challenges facing Spain right now are Islamist terrorism, the secessionist process in Catalonia – where an independence referendum is scheduled to be held on October 1 – and shoring up the economy, which recently emerged from a long crisis.
Despite the Spanish leader's evasive rhetoric, opposition groups hailed the session as a sign of progress. "To have taken this meaningful iniative through to the end is good news, but it is not enough, because in order to regenerate this country, Mariano Rajoy has got to go," said Ione Belarra, deputy spokesperson for Unidos Podemos in Congress. "In order to walk down that road, this is a positive first step."
The mood was tense inside the chamber, where Rajoy and members of the opposition exchanged bitter words.
"You are a prime minister under suspicion. You have cleared nothing up today, either. My group wants to know the truth," said Margarita Robles, the Socialist spokeswoman. "Your statement at the Audiencia Nacional [the central criminal court seeing the Gürtel case] was embarrassing. You did not attempt to clear up the facts under trial."
Reform requires legitimacy and willingness. And you don't have either
Albert Rivera, Ciudadanos
"You don't like to talk about corruption, but corruption cannot be concealed," said Podemos leader Pablo Iglesias. "Only an incompetent person could fail to know what was going on within his party. We will keep working to throw you out of government."
Even Ciudadanos, the reform party that supported Rajoy's reinstatement following two back-to-back elections that resulted in stalemates, was critical of the PP leader.
"What we saw today was a political rally. Mr Rajoy did not once pronounce the word Gürtel," said Ciudadanos leader Albert Rivera. "If perhaps he did not tell the truth inside the courthouse, is he really going to tell the truth here? Mr Rajoy, you said that reform is more effective against corruption than reproach, but reform requires legitimacy and willingness. And you don't have either."
English version by Susana Urra.