BRAZIL
Body found in Brazil could belong to Spaniard who went missing in 2015
Backpacker Hugo Ferrara wrote in his diary that he had injured himself after falling from a waterfall
The authorities in the northeastern Brazilian state of Bahia say they have found the remains of a man who could be Hugo Ferrara Tormo, a 27-year-old Spanish backpacker who went missing in the area in December 2015. DNA checks are being carried out to confirm the identity of the corpse.
The body was found in a mountainous area in Chapada Diamantina, a protected area near to the town of Cachoeira da Fumaça, said the local fire department on Thursday. It had been searching for a body since April 14, when a Spanish tourist handed in a backpack they had found with several items belonging to Ferrara Tormo. Among them were his passport, several cellphones, and a diary of his journey that mentioned an accident.
The Bahia authorities say they used the diary to reconstruct Ferrara's movements through the natural park, which led them to the body.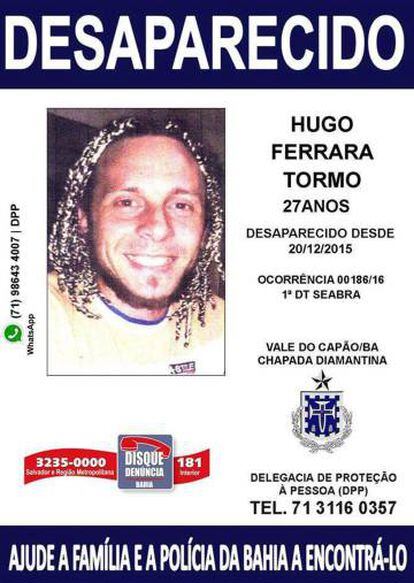 Ferrara, from Barcelona, wrote in his diary in an entry dated December 25 that he had suffered a "quite debilitating" accident.
His notes show that he fell from a waterfall in the park, which is famous for its cascades. The fall had limited Ferrara's ability to walk.
His family reported him missing after failing to hear from him, given that until then he had been in regular contact. They offered a reward of some $4,800. The Brazilian federal police reported his disappearance on February 4, 2016.
The last time Ferrara contacted his family was after reaching the small town of Seabra, within the Chapada Diamantina park. His intention was to walk some 70 kilometers through the area to the town of Lençois.
English version by Nick Lyne.