Spanish Civil Guard officer fined after "taking break to put on sanitary towel"
Authorities argue woman failed to communicate to superiors that she was leaving her post
Female officers with Spain's Civil Guard who fail to inform their superiors that they have their period while on duty can pay a high price for it – including two days' suspension without pay. This is what one woman engaged in routine highway patrol duties was given for leaving her post for five to 10 minutes on March 8 – coincidentally, International Women's Day – according to witnesses.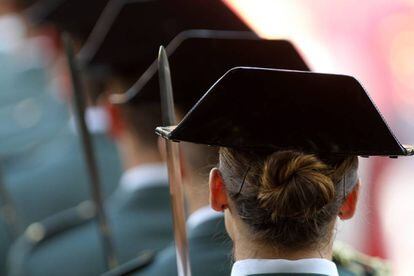 "She got her period unexpectedly and had to go to the bathroom to put on a sanitary towel so she wouldn't stain her uniform or the official vehicle," said her defense attorney.
The restroom was 300 meters away and when the agent returned to her post, she was confronted by a lieutenant who was carrying out an inspection. She explained the urgency of her situation to him but, according to her colleague, was told, "Don't give me excuses! You either go to the bathroom before or after your checkpoint duties, but not during!"
Civil Guard sources say the female agent is attempting to subject her superior to trial by media
The lieutenant threatened disciplinary action should it happen again, and the incident might have gone no further had it not been for the fact that the female agent was extremely upset when she returned to barracks, and asked to speak to a captain to report the lieutenant's behavior. The captain argued that he was not her direct superior, but also admitted that the lieutenant had asked him not to speak to her. The female officer then said she felt unwell and went home.
Five days later, however, she asked to speak to one of her superiors again to complain about the lieutenant's behavior and was surprised to be told that she would have to first address the person she was trying to file a complaint against, according to the correct hierarchical procedure. So on March 13, the lieutenant learned from his subordinate that she was going to file a complaint against him with his superiors.
On March 15, 48 hours after the interview and one week after the row, the lieutenant disciplined the officer for "failure to correctly comply with orders," stating that she had failed to ask for permission to leave her post to go to the bathroom. According to her lawyer, Antonio Suárez-Valdés, the officer has acted for the activation of a workplace harassment protocol established by the force five years ago, though to little effect to date.
Inaccurate story
On Tuesday, Civil Guard authorities commented on the case, stating that the story provided by the female officer did not line up with the reality of the events. According to official sources, she was not sanctioned for leaving her post for 10 minutes to apply a sanitary towel, but because both she and her colleague failed to inform superiors that she was temporarily absenting herself from her duties at Barcelona port at a time when Spain's terror alert is at level four – the country's second highest.
She was absent for five to 10 minutes
Witness to the incident
Those sources also say that the female officer failed to mention the sanitary towel at all when talking to a Civil Guard psychologist, and only did so when disciplinary procedures where initiated by the officer she had previously lodged a complaint against on the grounds he had bullied her.
The Union of Civil Guard Officials, which her superior is a member of, also dismissed the officer's story, arguing she had given a "biased and simplistic version of what had taken place, perhaps seeking a rapid trial by media of the official [who had initiated the disciplinary proceedings]."
"In the Civil Guard, it is not a problem to leave your post as long as this is communicated correctly and there is proof of the necessity to do so," the union said in a statement, in which it also defended the "irreproachable" conduct of the female officer's superior.
English version by Heather Galloway.