Spanish wine fit for a pope
Heras Cordón winery is the Vatican's only official supplier from Spain's famous La Rioja region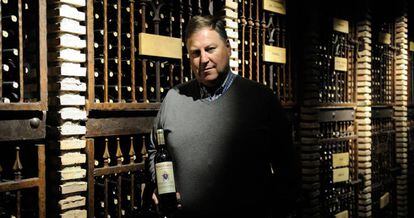 The tradition started with John Paul II who opened the doors of the Holy See to the Fuenmayor-based winemakers after a contest aimed at choosing which La Rioja winery would win the prestigious contract.
Benedict XVI extended the contract and now Pope Francis – who comes from a completely different wine culture in Argentina – has given his seal of approval to Heras Cordón's blend of tempranillo, graciano and mazuelo (carignan) grapes which are grown in established vineyards between Lapuebla de Labarca and Fuenmayor.
The bishop of Havana liked our wine but wasn't in favor of unnecessary spending Víctor Zabalza, Heras Cordón export manager
Bottles of the wine destined for the Vatican are emblazoned with the personal crest of arms of Pope Francis and also bear the Latin phrase Misericordias Domini in aeternum cantabo (I will sing the mercies of the lord forever).
The ever-stronger Vatican connection has been a shot in the arm for Heras Cordón, opening the door to markets in countries with deep Catholic roots such as the Philippines, Dominican Republic, Poland, Mexico, Brazil, Paraguay, Colombia and Chile, among others.
It has also been a boon for business in Argentina, the home country of Pope Francis, who enjoys a wine from La Rioja although his origins would point more towards his favoring the white Torrontes and red Malbec varieties of his South American homeland.
Other markets have proved more resistant, however. "I met with the bishop of Havana and with a relative of Fidel Castro and they liked the wine, but weren't in favor of unnecessary spending," says the winery's export manager Víctor Zabalza.
A possible deal with the leader of the Russian Orthodox Church, Patriarch Kirill of Moscow, is also on the cards, given the good relations between Kirill and Pope Francis, but remains in limbo for now. Heras Cordón has already presented the Russian Orthodox leader with a bottle of its wine embossed with his coat of arms.
Heras Cordón wines are already commonplace in wine shops and restaurants in Russia, as well as in Japan, Korea, China and Hong Kong. The majority of the 700,000 bottles it produces are for export. Alongside the barrels in the winery are the wine ranks containing vintages enjoyed every year by luminaries such as former Spanish president José María Aznar and the Spanish European Commissioner Miguel Arias Cañete. Soccer clubs such as Seville's Real Betis, Bilbao-based Athletic and the Basque teams Deportivo Alavés and Eibar are also regular customers.
"We maintain our traditions in modern installations," explains José Luis Heras Cordón. In one of the columns of the winery is the pulpit where, by papal order, new vintages are blessed.
English version by George Mills.