Alleged killer of US pilgrim to police: "Calm down, I'll take you to the body"
Police testimony on day three of the trial points directly at the only defendant in the case
Police testimony at a trial over the 2015 slaying of a US woman on Spain's Camino de Santiago pilgrimage route points directly at the main suspect in the case, a Spaniard who first confessed to the crime but has since retracted his story. Arizona native Denise Pikka Thiem went missing on April 5, 2015 as she walked alone in a rural area between Astorga and El Ganso, in the northern Spanish province of León.
On day three of the trial at the Provincial Court of León, officers explained how all evidence kept leading them straight to Miguel Ángel Muñoz, a man whom neighbors have described as anti-social and prone to odd behavior.
Muñoz, 41, is charged with murder and violent robbery, and could serve up to 25 years in prison if found guilty.
The coroner's report determined that Pikka Thiem was beaten with a stick, then finished off with a knife wound to her throat
Two other women who also walked the pilgrimage trail had previously reported being assaulted along the same stretch of road by a man matching his description.
But the determining factor in the case was Muñoz's own confession in September 2015.
"We wouldn't have found the body if he had not told us where it was," said the Astorga police chief who headed the investigation, speaking on Wednesday inside the courthouse.
Another police officer revealed that Muñoz personally led them to the spot, saying: "Calm down, calm down, I'll take you there."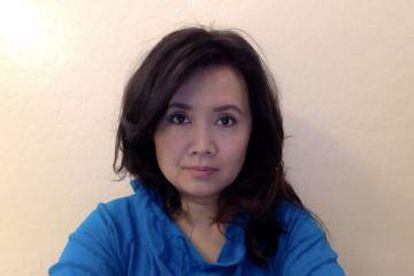 "He even boasted that if it hadn't been for him, we wouldn't have found it," said one expert witness.
According to Wednesday's testimony, Muñoz described "with great precision" how he had killed his victim. Later, the suspect retracted his confession, and his lawyer claimed that his client had been pressured by the police into confessing.
But police witnesses on the stand said that the confession took place when the alleged murderer broke down in tears. "At one point, he crouched down and began to cry, whimpering, 'What have I done?'"
The chief of police said that law enforcement did "a titanic job," checking phone calls from Spain and abroad, investigating pilgrim shelters along the route and contacting Interpol.
The case had seemingly reached a dead end until July 2015, when US senator John McCain, also from Arizona, offered Spain the FBI's help in solving the murder. His letter was publicized, and the Spanish government reacted by deploying a massive search operation.
Suspect silent
On Tuesday, Muñoz fell back on his right to remain silent and refused to take questions from the prosecution or even from his own lawyer.
That day, the prosecution reminded the jury that Muñoz initially admitted to his guilt, even if he later retracted.
"Muñoz is going to lie to you, because he has lied in the past," said the prosecutor. "This is a case of murder because there was malice. Denise was a slight woman, 1.55 meters tall, a foreigner in an unfamiliar spot. And she suffered a savage surprise attack. The victim's body was found thanks to the defendant's indications."
One of the Thiem family's lawyers described Muñoz as a "miserable," "vile" and "merciless" individual who "cut off her hands because he had touched them, and was afraid that his DNA would turn up on them."
"He spontaneously told us how he killed her, and provided all kinds of details," he insisted.
But the defendant's lawyer, Vicente Prieto, sought to sow doubt with regard to his client's guilt. "This is a terrible event, and we do not deny the family's pain. But we must not take it for granted that Miguel Ángel committed this crime."
Prieto also denounced his client's own "suffering" after his home was burnt down in recent weeks. "And this Monday they pulled him out of jail at 7am to bring him to the courthouse, and brought him back at 4pm, with no lunch or even a cup of coffee. And that has affected him even more."
More than 100 witnesses will take the stand to provide testimony in the case, after which a nine-member jury made up of eight women and one man will ultimately decide whether Miguel Ángel Muñoz is guilty of murder.
English version by Susana Urra.
A violent death
According to the prosecution, Thiem was murdered the same day she went missing, on April 5, 2015. Denise Pikka Thiem was walking the Camino de Santiago pilgrimage route by herself, on a journey she had begun in Pamplona, and on this particular day was supposed to cover a rural stretch between Astorga (León) and El Ganso (León).
The 41-year-old victim is believed to have taken a detour to visit Castrillo de los Polvazares (León), and got lost on her way back to the main road because she followed a yellow arrow – used to indicate the official route – that took her down another path leading to the defendant's property. Muñoz is believed to have placed this phony marker himself in order to lure pilgrims. Other women had reported being harassed in the same area.
The coroner's report determined that Pikka Thiem was beaten with a stick, then finished off with a knife wound to her throat. Her hands were later cut off, and these have never been found.
The body was found in September 2015, after the search was renewed following public revelations that US Senator John McCain had offered Spain help from the FBI to solve the case.