Barcelona opens Spain's first silicone sex doll brothel
Clients can spend an hour with hyper-realistic mannequin for €80 an hour, and choose its clothes
Barcelona has opened Spain's first brothel where the prostitutes are not human beings but silicone dolls. The inauguration of the establishment last Friday has brought a business with an established tradition in countries like Japan to Spain.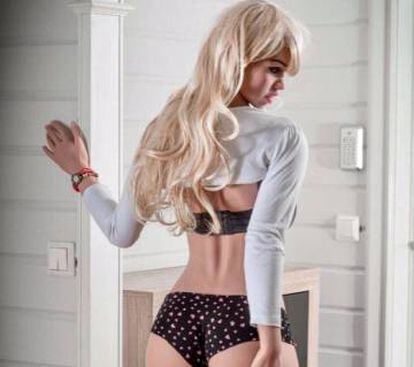 The "girls" are an evolution of the classic inflatable sex doll, but are now made with state-of-the-art polymers and crafted into hyper-realistic looking mannequins.
Consumers choose between dolls of different heights and curves, and all of them have three working orifices. The market price to buy these sex dolls can be upwards of €6,000.
The brothel's name is Lumidoll, which plays on the word "lumi," jargon for prostitute. The clerk at the front desk said she was not allowed to give out information about the business, and that it was still too early to know how consumers of this type of sexual fetishism will respond to the new offer.
The sex dolls are not going to replace us; they fulfill their role as a fantasy but they are not a threat to our profession
Conxa Borrell, president Sex Professionals Association
For now, Lumidoll is offering four Sex Dolls whose "unlimited" services are paid for by the hour. One hour with a doll is €120, although there is a special introductory offer of €80 currently in effect. Ninety minutes with a doll will set customers back €150 (or €100 while the special offer lasts) and two hours are €170 (or €120 at the reduced rate).
One of the most frequently asked questions in connection with the dolls is their hygiene. Managers say that they are disinfected before and after every service "with special antibacterial soap." Even so, the use of prophylactics is recommended, and these are included in the price. Customers are also required to call in advance so the doll can be dressed to the client's desires.
A new form of competition?
Conxa Borrell, president of the Sex Professionals Association (Aprosex), said she is convinced that this new line of business will not hurt traditional prostitution.
"The sex dolls are not going to replace us; they fulfill their role as a fantasy but they are not a threat to our profession," she said. "Making fantasies come true is very healthy, and dolls are in the fantasies of many people."
Borrell also added that Japan "is light years ahead of us when it comes to making fantasies come true," and called the dolls a complement, "because there will be clients who will want to have a prostitute, a doll or other types of fantasies."
English version by Susana Urra.