Son-in-law arrested for murder of Alicante banker's widow
The victim, shot in December, was married to Vicente Sala, former head of Spain's CAM savings bank
She was found dead with two gunshots to the head on December 9, as she was putting her vehicle through a car wash in Alicante, on Spain's Mediterranean coast. The killer had apparently used a pistol, possible fitted with a silencer.
National police on Wednesday arrested Miguel López, who is married to the victim's youngest daughter. Initial reports had pointed to the possibility of a contract killing, but investigators now suspect that López pulled the trigger himself.
The crime has shed light on the poor relations between Vicente Sala and María del Carmen Martínez's four children
The suspect has a gun license and practiced target shooting, said sources familiar with the investigation who were quoted by the news agency Efe.
Miguel López was in charge of running the family's car dealership, Novocar, where the victim was found late in the evening. She had gone there to pick up her Porsche Cayenne after a routine check-up, and was putting it through the dealership's car wash tunnel when she was shot at close range.
López was arrested at around 8:30am, as he was leaving his home in Santa Faz, outside Alicante. Patrol cars blocked off access roads to the family estate, where Vicente Sala and María del Carmen Martínez had built a central mansion and four stand-alone homes for each of their four children and their spouses. The Sala-Martínez are one of the wealthiest families in Alicante.
A family feud
The crime has shed light on the poor relations between Vicente Sala and María del Carmen Martínez's four children. During the inquiry, they showed up in court in two separate groups – the son in one group, and the three daughters in the other.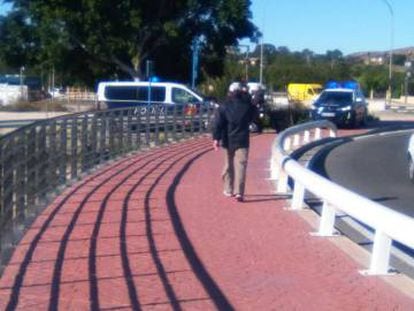 The patriarch, Vicente Sala, built an empire that began with a resin company that expanded into several Latin American countries. He then moved into construction and car sales.
In 1998 he was appointed president of the board of the Caja de Ahorros del Mediterráneo (CAM) saving bank, a post he held until the age of 70, in 2009. The bank had to be bailed out in July 2011, and revelations about its systematic mismanagement led the governor of the Bank of Spain at the time, Miguel Ángel Fernández Ordóñez, to describe it as "the worst among the worst" in a landscape of failed regional lenders.
Sala was investigated by anti-corruption officers over allegations he had links to senior politicians at Alicante City Hall who gave him access to rezoning plans in the city. By then he was dying from cancer and was never charged.
The police are now trying to determine whether any of these business dealings hold the key to the murder of María del Carmen Martínez.
English version by Susana Urra.