In bid to win over skeptical public, FARC takes the Mannequin Challenge
The Colombian guerrilla group is increasingly making use of social media to update its image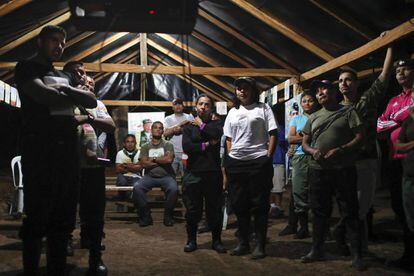 To that end, rebel soldiers have started to publish posts via their YouTube channel and several Twitter profiles. Their last experiment was to have a go at the viral phenomenon known as the Mannequin Challenge.
The video "Apartes de la vida guerrillera," or "Snippets of Guerrilla Life," was published on December 7 on YouTube. The viewer first hears a rap tune accompanied by a guitar as the camera shows a rebel camp at an unknown location. As with all the Mannequin Challenge video, the viewer is taken on a tour around the scene, where all those who appear remain completely motionless, as if frozen in time.
There are no weapons in sight, now that the FARC no longer uses them as a symbol of their struggle
In this particular recording, there are no weapons in sight, now that the FARC no longer uses them as a symbol of their struggle. One group is working at their computers, another is playing chess, and a woman is speaking on a cellphone. Two soldiers greet one another, a few others are engaged in daily chores and three women are paying close attention to an explanation by someone who appears to be a teacher. The video shows their day-to-day life, according to what rebels say on their official Twitter profiles. FARC leaders have also shared the video on their own social media pages.
Just as Michelle Obama, Beyoncé and Hillary Clinton used the viral Mannequin Challenge for their own ends, the FARC is making use of this strategy to separate what they see as the reality from the myth. There are no guns or military uniforms or any war paraphernalia on display – the scene could take place in any village in Colombia. They have been developing this strategy for months with other types of images: rebel soldiers who dream of studying, rebels who come from humble peasant stock, rebels who want peace, rebels who sing and dance… Short clips of no more than two minutes in which they share good wishes over an emotional musical score that makes the viewer want to share – the recipe for any viral video.
Still, the videos have not reached as many viewers as hoped. The Mannequin Challenge got more than 2,000 views 24 hours after it was published on their YouTube channel, which only has a little over 1,000 subscribers, and on their Twitter profiles where 80,000 people follow. Their videos usually draw 400 to 1,000 views, apart from their version of Ode to Joy, Beethoven's Symphony No. 9 – that received more than 40,000 views.
FARC rebels appear to have learned the basic recipe for a viral video. They have disarmed, and many of their victims, tired of years of violence, have accepted their plea for forgiveness. But the stigma attached to the guerrilla group is stronger than the impact made by an emotional video of a rebel soldier – albeit one who has been stripped of all his war symbols.
English version by Dyane Jean François.