LATIN AMERICA
Maradona: peace with the Vatican and conflict on the pitch
Soccer legend hugs pope ahead of charity soccer match, then loses his cool during game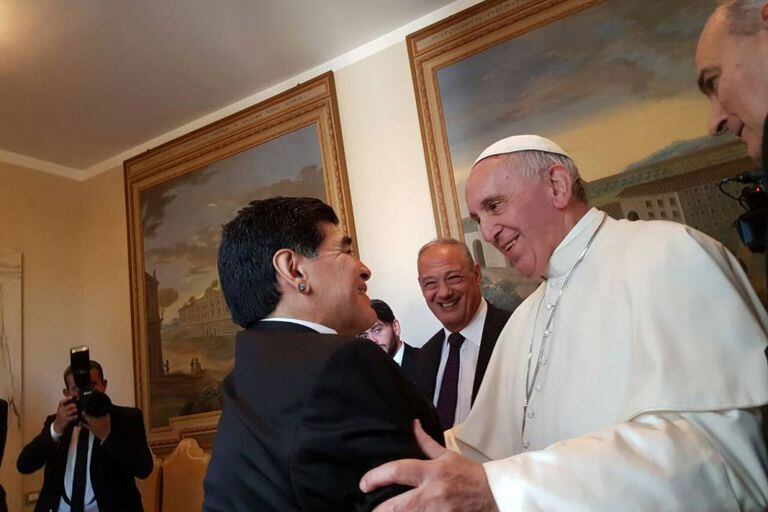 Diego Maradona thanked fellow Argentinean Pope Francis for bringing him back to the Roman Catholic Church on Wednesday, then hours later, during a Vatican-organized Match for Peace, soccer game, clashed with compatriot Juan Sebastián Verón and had to be restrained by security staff.
The match saw some of soccer's biggest names divide into a La Liga XI, featuring Maradona, against a Rest of the World XI in an encounter screened live on Italian television. The La Liga side eventually came out on top 4-3.
This year's game was to raise money for the victims of the earthquake in Amatrice
The match took place under the auspices of the Vatican's Match for Peace initiative, set up in 2014. This year's game was to raise money for the victims of the earthquake in Amatrice, in central Italy, on August 24. Among the stars of world soccer in attendance were Francesco Totti, Ronaldhino, Rui Costa, Hernán Crespo, and several players from the Italian national squad.
"When they told me we were playing for the kids in Amatrice I knew I couldn't miss this match. Francis can rest assured that Maradona is going to be on the pitch for 90 minutes. I had drifted away from the Church, but Francisco brought me back," said the soccer player.
Earlier in the day, Maradona remembered his first meeting with Pope John Paul II at the Vatican, in 2000, saying that this was when he had turned away from the Church.
Speaking to reporters at the Vatican on Wednesday, Maradona said: "I went into the Vatican and saw that golden roof. And I said to myself how could somebody be such a son of bitch as to live with a golden roof and then go to poor countries and kiss children with a full belly? I stopped believing."
Pope Francis, who praised Maradona for his charity work, said: "I am convinced that today an education without sport is unthinkable. Sport is part of education, it is part of who we are, it is about growing up, about families and countries," said Pope Francisco at the press conference before the match. The two men then hugged each other, and breaking protocol, chatted for a few minutes, during which Francisco was heard to tell Maradona: "You are younger than ever."
English version by Nick Lyne.