MEXICO
The Mexican town that even the federal government fears
In Turícuaro, impunity is the law of the land as trainee teachers and locals hold up dozens of vehicles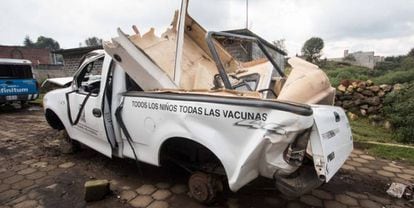 That the Mexican federal government is basically a matter of fiction in certain parts of the country may be explained in several ways. For example, take a car ride to visit the ostensibly idyllic small town of Turícuaro (3,000 residents), in the heart of the volcanic state of Michoacán.
This indigenous outpost, an enclave of sinuous highways and splendid Oyamel firs governed by traditional ways and customs, lives outside the law. Or better yet, without regard for the law.
We will only free the vehicles if the government sits down to negotiate
Turícuaro vigilante leader
It has been four months since its streets, squares and esplanades became the scene of a flagrant crime. Protesting trainee teachers have held up dozens of buses, trucks, trailer trucks and vans in their bid to force the federal government to roll back its educational reform. All that plunder lies in the open air, yet the authorities are looking the other way.
No one can approach the vehicles; no one can get them out. It does not matter that companies demand their return or that drivers languish for months next to them. If someone tries to drive one away, protestors threaten to set it on fire. "They will not move from here until the repressive state sits down to negotiate," the leader of the community patrol guarding the vehicles bellows in a voice that betrays no confidence.
The group of 15 includes teenagers with disheveled hair and elderly people with faces marked by many years of life gone by. They eye the journalist with mistrust and are even more suspicious of the photographer, crowding around him as he takes pictures of the vehicles. They do not like visitors.
"We are fighting, the trainee teachers are not alone, their cause is our cause," says the group's leader. "We will only free the vehicles if the government sits down to negotiate, but, beware, we do not trust anyone anymore."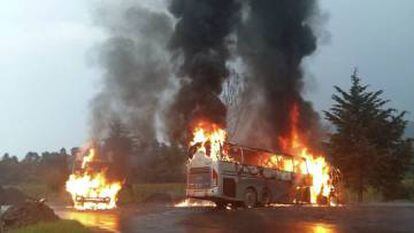 Behind him, a long line of vehicles stretches out into the horizon. Some of them have broken windows, others have sunk in the mud. These trucks and buses carried cement, gasoline, fruit, soft drinks, parcels and people. Now they are stuck in this hostile land. "And there will be more if they don't do what we ask," one of the vigilantes shouts.
His is no small threat. Illegal seizure of vehicles is a bloody business in Mexico. Between October 2014 and July 2016 alone, 2,414 buses were seized, leading to losses and damages in the range of $30 million. "They do whatever they want and no one stops them. The institutions keep quiet and give in. It's a scandal," says the spokesman for the Michoacán truck and bus association.
Though the practice is common in other parts of the country, since June it has gotten worse in Michoacán, the state with the largest number of government-funded teachers' colleges, known as "escuelas normales." The objective of the normalista movement is to force the federal administration to roll back one of the main initiatives in its education reform plan: requiring future teachers to pass a standardized test instead of granting them automatic placements in a school upon graduation.
As the fight went on, radical groups overwhelmed Michoacán Governor Silvano Aureoles (Democratic Revolution Party, PRD). Because of the fear of more social unrest, police avoided clashing with protestors and chaos spread throughout the state: seizures of toll booths on freeways, burning of trucks and even blockades on railroad tracks.
Angry students even held up more than 200 vehicles at one time. "We are reaching the end of the phase for dialogue, but the real problem depends on the federal government," says Michoacán interior affairs chief Adrián López Solís. "What the teachers ask for, automatic placement, is not within our powers."
All that plunder lies in the open air while authorities look the other way
Tensions reached their peak on Friday when, in the wake of the violence that broke out after a group of normalistas were detained, businesses decided to suspend bus services to protect the lives of passengers and drivers. The measure had national impact but it only lasted a short while. On Saturday, bus service resumed in order to avoid creating a larger problem for passengers.
The governor offered police protection, but that hardly helped. The next day, protestors seized more toll booths and burned more trucks. On Monday, the National Coordinator of Education Workers (CNTE), the powerful union leading the fight against the government, announced that it would also hold up buses to demand the release of the eight trainee teachers in police custody. They were released that same night, posting a bond of just 1,000 pesos ($50). "That's the way things work around here," says a trucker association spokesman.
Yet in all this time, no federal official has come to Turícuaro; neither has the state sent in the police to remove the vehicles. The fear of bloodshed, as state authorities admit, prevents them from taking such action. "It would be a Pyrrhic victory," says Michoacán official López Solís. Given this premise, this normalista sanctuary, like many other things in Michoacán, will preserve its impunity.
Let's not kid ourselves, they are stealing the cargo we carry. There are no ideals at work here, it's just business Driver Israel
Israel, Miguel Ángel, Gabriel and Martín know it well. These drivers have been trapped here for four months. They stay close to the vehicles because if they leave, they could lose their jobs. And fleeing might lead to something much worse. "They would shoot us and then burn the trucks," Gabriel says.
Stuck in a Kafkaesque plot, the four men and about a dozen other drivers have decided to make the best of whatever comes their way. "I hope we can leave in two months," Miguel Ángel says. His fellow drivers shake their heads. They do not believe it. They have watched time go by and feel abandoned. First the locals took away the vehicles, and then the merchandise.
"Look, they've kidnapped us," Israel says. "They know we cannot leave the vehicles because our bosses could fire us and even accuse us of being accomplices. And let's not kid ourselves, they are stealing the cargo we carry. There are no ideals at work here, it's just business." His two daughters and wife are in Morelia. He misses the city. He has been living and sleeping in his Kenworth double-decker trailer, a huge beast that can carry 54 tons of cement, since July 5. He knows all that material will one day disappear, and looks worn out. Every morning, Israel wakes up and walks to a well to wash himself. He says he gets cold and that the locals treat him meanly. "Some don't want to sell us food, they'd rather see us leave so they can take away the cargo without any trouble."
But not everyone in Turícuaro is like this. Some residents sympathize with the drivers even though they would not dare say so out loud. "You be careful as well so they don't burn your car," whispers one indigenous woman. She is wearing a floral-print dress and a metallic necklace that gleams in the sunlight. She looks like she wants to talk, but then warns that the neighborhood watch group is coming. She retreats back into her house. The drivers lower their voices. As the vigilantes pass by, they all fall silent and lower their heads. And so does the State of Mexico.
English version by Dyane Jean François.