BUSINESS
SME bankruptcies in Spain nearly four times the pre-crisis rate
But a new OECD report notes a downward trend in small businesses folding in recent months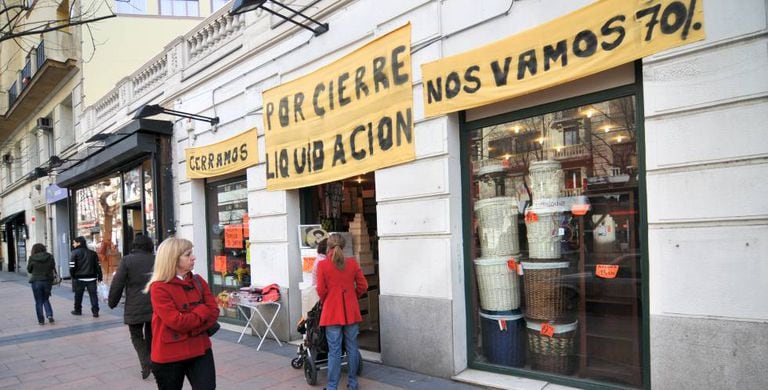 The economic recovery in Spain is an observable fact, but the country has yet to fully bounce back from the effects of the crisis.
A persistently high unemployment rate is one sign. And the high bankruptcy levels among small- and medium-sized enterprises (SME's) is another.
Business creation is also far from pre-crisis levels in Spain, according to the new report
A new report by the Organisation for Economic Cooperation and Development (OECD) found that nearly four times as many companies with 250 or fewer employees went under in 2015 as did in 2007.
"Bankruptcy rates in 2015 were below pre-crisis levels in the United States, Japan, Canada, Germany, Brazil and South Africa," says the report. "By contrast, they were significantly higher in Austria, France, the Netherlands and Norway, and were over double their pre-crisis rates in Italy and nearly four times as high in Spain, although recent quarter-on-quarter trends point strongly downwards in both countries."
Business creation is also far from pre-crisis levels. In Spain, Italy, Belgium, Germany and the United States this creation is somewhere between a fifth and a third of what it used to be in 2007.
The report, which has been published annually for a decade, includes a new survey conducted in partnership with the World Bank and Facebook, regarding perceptions about the current state and future outlook of the firm and of the economy in general.
The survey, which was conducted among companies with a Facebook account, found that nearly half of companies with 50 or more employees and between 10% and 20% of companies in G7 countries are planning to increase jobs in the coming six months.
In the case of Spain, the outlook is more pessimistic, especially among companies with 50 and more workers. Only Japanese entrepreneurs had similarly negative feelings about the future. However, younger SMEs were more optimistic than the older ones about their hiring prospects.
English version by Susana Urra.