Thousands of Catalan separatists put on show of force at Diada celebration
Regional premier Carles Puigdemont pledges to keep "disconnecting" from Spain and to call new Catalan elections by July 2017
Hundreds of thousands of people packed the streets of five of the main cities in Catalonia on Sunday to back the regional government's plans to hold an independence referendum.
The region's local Guardia Urbana police estimated a total of 875,000 people took part in marches held to celebrate La Diada, Catalonia's national day, in Barcelona, Tarragona, Lleida, Berga, and Salt, a significant drop from last year, when the authorities put the figure at 1.4 million.
Regional premier Carles Puigdemont says he intends to call elections in July 2017, which would be followed by an independence referendum
Speaking on Monday morning, regional leader Carles Puigdemont of the Catalan Democratic Party (the successor of Democratic Convergence of Catalonia), said he intended to call elections in July 2017, which would be followed by an independence referendum.
Puigdemont said he hoped to reach an agreement with acting Spanish Prime Minister Mariano Rajoy along the lines of the UK referendum held last year on independence for Scotland. But he added that either way, the regional government would continue "disconnecting" from Spain over the coming months ahead of the July poll.
In the 12 months since the last Diada, the pro-independence drive has nearly stalled, only to take on renewed impetus in recent weeks.
In January, after months of political deadlock, Puigdemont took over from Artur Mas following a regional election in September 2015 that left Catalonia's pro-independence parties split on whether to endorse him as their leader.
Puigdemont, the former mayor of Girona, immediately restarted the push for a unilateral declaration of independence. Under an 18-month "roadmap", the Catalan authorities have begun approving their own constitution and building institutions necessary for an independent state such as an army, central bank and judicial system.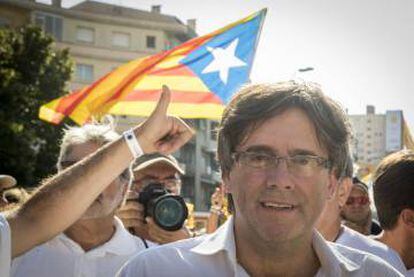 Puigdemont has the support of Catalonia's pro-independence parties, who have said they will back him in a key confidence motion in the regional parliament on September 28.
But the independence plan faces fierce opposition not only from Mariano Rajoy's Popular Party (PP), but also from the opposition Socialists (PSOE) and other non-nationalist parties like Ciudadanos. The PP refused to allow a referendum in Catalonia in 2014, arguing it would contravene Spain's constitution.
The ongoing independence drive in Catalonia plays into events at the national level. Spain has held two inconclusive elections since December last year and is still without a government, but Rajoy and his Socialist rivals have been unable to bury their differences and form a German-style grand coalition in Madrid to thwart the Catalan independence parties.
The resurgence of a unified independence movement is also preventing Socialist leader Pedro Sánchez from creating a left-leaning coalition with the country's third political force, Podemos, which says it backs Catalonia's right to hold an independence referendum. Emerging center right party Ciudadanos, which has offered to support the efforts of both the PP and the Socialists to form a government, also opposes any moves toward independence in Catalonia.
Opinion polls show that the majority of Catalonia's 7.5 million people, who have their own distinct language and culture, say they want to remain part of Spain but with greater autonomy on issues such as taxation.
English version by Nick Lyne.