Colombia and Venezuela move closer to definitive reopening of border
More than 130,000 Venezuelans crossed over last weekend to buy goods in the neighboring country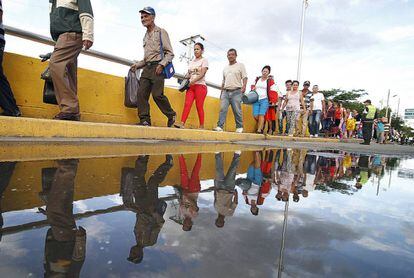 Following two weeks that have seen chaotic scenes as tens of thousands of desperate Venezuelans cross into Colombia to buy food and medicine in short supply at home, the two countries have announced they are moving closer to reopening their borders indefinitely.
"We're not going to have a repeat of the situation of the last few days," said María Ángela Holguín, Colombia's foreign minister, on Monday, adding: "The next opening will be for good."
Venezuela's President Nicolás Maduro unilaterally closed the 2,000-kilometer border with Colombia in August last year. But as his country's economic crisis deepens, growing numbers of people have been making their way into Colombia to buy basic goods no longer available in Venezuela.
The two countries will have to agree about how to counter smuggling across their 2,219 kilometer frontier
Before they were closed, more than 100,000 people a day used the two main crossings into Colombia, according to the Venezuelan government. That figure had shrunk to just 3,000 a day, many of them students and sick people given special day passes, according to nonprofit groups working in the region.
But on July 11, Colombia allowed thousands of people through its border crossing at Cúcuta. The following weekend saw an estimated 130,000 Venezuelans enter over a two-day period.
"Each of these openings has delayed negotiations," said José Guillermo Vielma Mora, governor of Venezuela's Táchira state, which borders Colombia.
He added that next weekend the Venezuelan authorities will "try out registration systems to guarantee a proper opening." Neither country expects any further surprise arrivals. "What has happened over recent days is that Venezuela invited its citizens to make the crossing," said Holguín.
She added that she would be meeting her Venezuelan counterpart, Delcy Rodríguez, but would not confirm where the encounter would take place, or if it would be on the August 4 date previously mentioned. The key issue both parties will have to agree on is how to counter smuggling across the 2,219-kilometer frontier, which runs north-south from the Caribbean down to the Amazon basin.
"This is one of the conditions that will enable a later meeting between the two countries' presidents, said Holguín.
Sign up for our newsletter
EL PAÍS English Edition has launched a weekly newsletter. Sign up today to receive a selection of our best stories in your inbox every Saturday morning. For full details about how to subscribe, click here
The 130,000 Venezuelans who last week flooded into Cúcuta, in northeast Colombia, spent some $1.3 million.
The mass exodus has raised the question as to how many of the Venezuelans to have crossed over in the last two weeks have stayed in Colombia. Estimates suggest that around 70% of the more than 88,000 who crossed over into Cúcuta on Sunday had returned to their home country. Holguín said Colombian police would be checking Venezuelans' documents: "We welcome foreigners whose papers are in order, but anybody else will be expelled."
English version by Nick Lyne.