THE SEX INDUSTRY
The dark reality of Spain's porn scene
Three young women talk to EL PAÍS about their experiences with leading producer Torbe, arrested last month on charges of people trafficking, distributing child pornography and sexual abuse of minors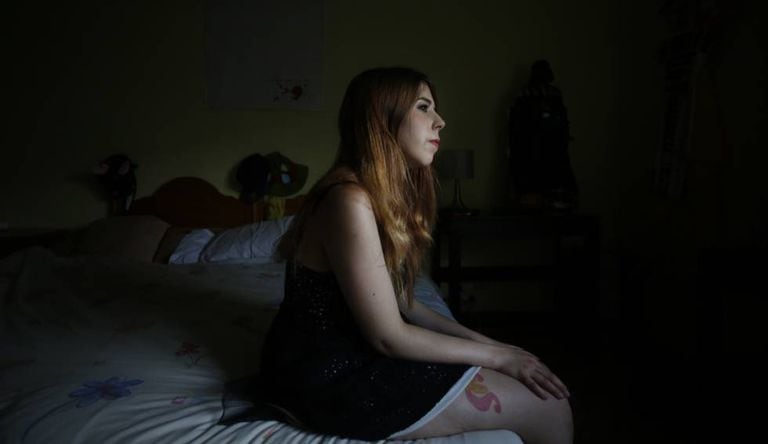 The cameras are rolling on a makeshift film set where a group of young women is performing oral sex on around a hundred men standing around in various stages of undress. Suddenly, one of the women, unable to stop gagging, runs off the set in tears to be sick. The cameras follow her into the bathrooms.
The young woman is from Ukraine, and according to her colleagues, had little idea before she arrived at the shoot of what she would have to do or what she might earn for it.
"When the girls saw all those men there, they were terrified," says Isabel, who has worked for two years with Ignacio Allende, otherwise known as Torbe, who is currently being held on remand and is facing charges of distributing child pornography, human trafficking and sexually abusing minors.
"There would be anything up to 100 guys. We often had to go out to buy the girls a bottle of vodka or something like that, so they would be drunk enough to do the scene."
Like the other two Spanish women interviewed by EL PAÍS, Isabel, 22, says she began working with Torbe because she liked sex and it seemed like an easy way to make money. He offered her roles where she would be with dozens of men at the same time, for €100 a scene. She would also do webcam sessions by the hour.
"In the beginning he treated me well," she says. "But once he'd finished exploiting me, I was pushed to one side. Then he started treating me badly. He kept putting me in bukkake scenes [where a woman performs oral sex on a group of men who then ejaculate over her]."
Isabel says the situation got worse when Torbe began shooting videos for a Ukrainian businessman known simply as Boris. "They bring girls from Ukraine to Spain who can't even speak Spanish," says Inés (a fictional name), who started working for Torbe's Putalocura production company at the age of 18, and lived with him briefly.
"Mila, a woman who spoke their language, made them have oral sex with dozens of men and when they asked her if they could stop, she wouldn't let them. They wanted the girls to have a bad time, they wanted them to look as though they were suffering. They wanted them to be crying."
Inés says that Boris only wanted the Ukrainian women that he sent over in the videos. "The Spanish girls would prepare the men behind the scenes before they went on the set with the girls," says Isabel. "The smell was dreadful and it was really hot. All for €50. It was disgusting. They did two shoots a week, which made for a small, steady income. They told us that it was for a Russian producer. But we didn't see the videos uploaded anywhere. I think they were just sold to individuals."
A number of the women refused to do bukkake scenes after they discovered that their blood tests for sexually transmitted diseases (STDs) were incomplete. "They just referred to thrush," says Inés. "That's what we found out later. One of the boys who came to do the shoots, as well as the cameraman, told us. I got chlamydia." According to Isabel, Torbe told the women appearing in his films that STDs were of no importance and could be easily cured with a little pill.
Sign up for our newsletter
EL PAÍS English Edition has launched a weekly newsletter. Sign up today to receive a selection of our best stories in your inbox every Saturday morning. For full details about how to subscribe, click here.
Paid cash in hand without contracts, the Spanish women were obliged to shoot some scenes with Torbe himself. "He lived alone and sometimes he would take one of the girls home," says Inés. "You just had to have sex with him for the scenes, but if you didn't want to, you would be fired. You were also fired if you tried to work anywhere else and not exclusively for him, or if you didn't arrive on time to do the webcam sessions."
Webcamming, simulating sex with clients who pay by the minute, was another major source of income for Torbe. Some of the women EL PAÍS talked to say they were forced to work for up to 10 hours a day. Mireia (a fictional name) worked for Putalocura briefly as a webcammer, saying Torbe tried to prevent her from setting up on her own.
"I had a lot of problems," she says. "He threatened to reveal my real name and post photos of my face online." Eventually she managed to make her own way, she says, adding she never wants to be reminded of the period of her life when she worked with Torbe, the self-styled king of Spanish porn.
English version by Heather Galloway.