The secret lives of Spain's work-at-home porn stars
The crisis has led to an increase in amateurs earning money performing live sex acts online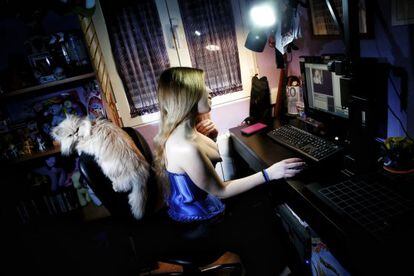 Two years ago, Melanie, 32, left her job as an admin assistant in the Andalusian city of Jaén. Her parents, whom she still lives with, assume she is looking for work, and is making ends meet through her unemployment benefit.
But most evenings, after dinner, Melanie – an assumed name – retires to her room, leaving her parents to watch television, locks the door, and takes on the role of BichitaXXX, earning around €1,000 a month performing online sex acts in real time using the webcam on her desktop computer.
Melanie is among the thousands of young women and men throughout Spain earning a living in this way, either alone, or with their partners – some of them simply doing the housework without any clothes on. As it has always done, pornography has adapted to changing times, in this case, to our seemingly limitless fascination with the sex lives of other people like us, who can be found on sites such as Chaturbate or MyFreeCams.
A lot of people think I don't work, and I have to say that it can be tiring living a double life" Webcammer Melanie
During the four hours or so that Melanie spends performing in front of her webcam each evening, she gets asked to do pretty much everything, and is usually willing to accommodate – although she recently drew the line when asked to step on a live chick in a high-heeled shoe. Most of the time, she says, the men hiring her services are looking to live out the same, tired old sado-masochistic fantasies. "I like my job, and you meet all kinds of people. I've been doing this for a while, and sometimes it gets boring, but most of the time I enjoy it. Most of the time it's OK. It can get a bit routine, being asked to do the same things every day, a bit mechanical. What's interesting is that I have a lot of repeat customers, in fact around 40 percent of mine are regulars." But Melanie's work remains a secret, and she says she has no intention of telling any of her friends.
Her last boyfriend ended their relationship when he discovered her secret life while looking through her computer's hard drive. "A lot of people think I don't work, and I have to say that it can be tiring living a double life," she admits, adding that her next boyfriend will have to be a bit more open-minded. Melanie further protects her identity by wearing a mask when working.
Perhaps because of the aura of mystery Melanie has created around her alter ego, BichitaXXX – which translates as Littlebug – she now has around 5,000 followers on Twitter: "Not seeing you for a few days will be very hard," wrote one follower in a WhatsApp message after Melanie decided to go on holiday with her parents for a week. Her clients pay a euro a minute, and on average spend around 20 minutes with her, one on one. To earn a little extra, Melanie also sells her used underwear, and will accept gifts – like other webcammers, she has an Amazon wish list. She works via a private Skype account, which allows her to decide when and with whom to perform. Many of her customers say they see her as their virtual girlfriend, seemingly hooked on somebody they have never met, whose face they have never seen.
This new generation of self-employed, work-at-home porn stars use the social networks to market themselves. Some of them, such as one webcammer from Barcelona who also prefers to remain anonymous, can have up to 45,000 followers on Twitter. A university graduate, she says she enjoys her work, and sees it as a milder form of prostitution. She prefers to work for sites that provide the technology and infrastructure, and deals with up to six clients at a time, receiving 20 euro cents a minute for each user who is connected.
To earn a little extra money, Melanie also sells her used underwear, and accepts gifts from her Amazon wish list
One of the leading companies in the sector in Spain is Putalocura, owned by Ignacio Allende, better known as Torbe, who realized several years ago that the future of pornography was online, and particularly via webcams. "The age of the porn star is over," he says. "In this country there are only a handful of porn companies and they're having a tough time of it: the old ways of doing things are over. Nowadays, just about everything is amateur."
Torbe points out that just four years ago the pornography industry in Spain was worth around €400 million a year – now that figure has fallen by half. The internet is to blame for the collapse of the traditional porn sector, but has also provided a platform for a new, home-made approach, he says.
Among the dozens of young women working on sites owned by Torbe is 21-year-old Rena Reindeer, who works from her home in a Madrid suburb. She moved to the capital from her native Granada in September after she found herself unable to find work. "A friend who knew that I liked sex suggested I try this, and it was a good idea," she says, adding that she one day hopes to become an actress. "The crisis has seen a lot of young women earning relatively easy money from webcams," she says from her bedroom on a chilly February morning.
The age of the porn star is over. Nowadays, just about everything is amateur" Putalocura owner Ignacio Allende
It's a quiet time of the day, and while she waits for a client to come online, she watches horror videos. Her room is filled with books about zombies, and pride of place goes to a collection of My Little Pony toys. Her two cats wander around, rubbing up against her chair. When she hears the sound of a client connecting she turns to the screen, adopting an innocent look. She chats with him for a few minutes, then gets up, dances, removes her top, types something, and then loses the connection. Rena says she's not worried that she might be stalked by any of the men who come online to see her, and isn't concerned about her face being seen, adding that her eyes are her best feature. "Anyway, why should I be ashamed of what I am doing? I'm not hurting anybody and I like this job," she insists.
If this were like any other job, you might describe Rena as a colleague of Alexxa, a 22-year-old who works on the same site. She's been webcamming for 18 months and is now among the most popular in Spain, with around 22,000 Twitter followers. Each day, after breakfast with her flatmate, she puts the heating on in her room while she takes her dogs for a walk. "It's essential to work in a warm place: after all, you spend most of the day naked," she explains.
To the surprise of many webcammers, a large number of the men who use these sites often just want to talk. "I thought that all this would be was taking my clothes off straight away," says Alexxa. "Some guys do want to see you, but often it isn't just about sex. Many of them just want to talk to a pretty girl. They can be online for up to three hours. I spend around 70 percent of my time talking. To begin with, I couldn't understand why they would spend so much time just talking. Some told me that they had to pay their telephone bill in installments. But they get addicted, and sometimes you feel like a human slot machine. It's amazing. I would say that they are addicted to love, they are people who fall in love easily, I guess they don't get enough affection."
I would say my clients are addicted to love. I guess they don't get enough affection" Webcammer Alexxa
Alexxa also works on a site called Chaturbate, which attracts hundreds of thousands of users from all over the world with some performers giving shows for free once they reach a certain number of paying viewers. This is really where amateurs rule, and where it is possible to make real money. Shows take place in people's homes – whether in Vienna, Los Angeles, or Tokyo – with domestic appliances or furniture in full view. It doesn't get any more real. Some people perform for money, and others for tips. Alexxa says she garnered an audience of up to 5,000 people while doing a lesbian show with a friend that lasted three hours, earning her €200. And all without getting out of bed.