SPANISH POLITICS
Venezuela Assembly probes Podemos funding from Chávez regime
Pablo Iglesias and other leaders asked to come to Caracas to explain €7.16 million payments from former president for advisory work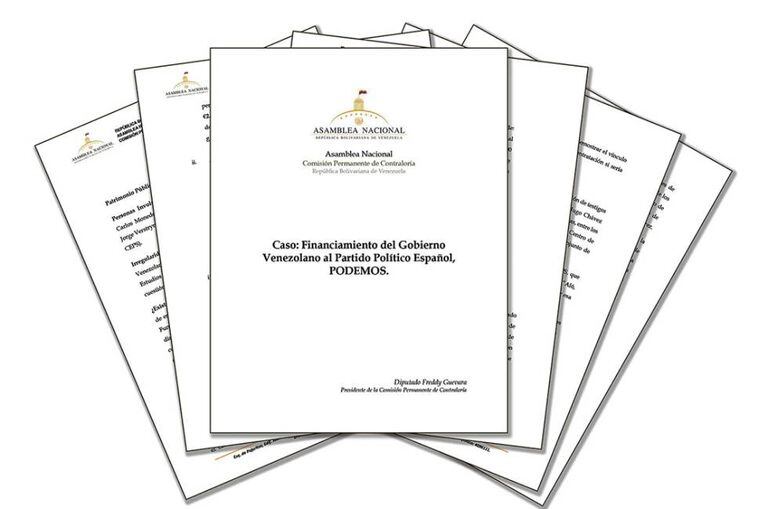 The Venezuelan National Assembly has opened an official investigation into alleged financial ties between the Spanish anti-austerity party Podemos and the administration of the late Hugo Chávez, according to documents to which EL PAÍS has had access.
The legislative chamber of the Latin American nation has asked Podemos leaders Pablo Iglesias, Juan Carlos Monedero and Jorge Verstrynge for cooperation into the matter of whether the Spanish party was indirectly funded by chavismo.
Venezuelan Assembly report
Podemos has always denied receiving any funding from these sources, although a foundation with ties to Podemos, the Centro de Estudios Políticos y Sociales (CEPS, or the Center for Political and Social Studies) did perform advisory work for Venezuela.
Freddy Guevara, chairman of the Assembly's Comptroller Committee, wants to know whether the €7.16 million allegedly received between 2003 and 2011 by CEPS – headed by leading Podemos officials – was later used to create the party in 2014.
Records from the Spanish Culture Ministry show that the non-profit foundation received at least €3.7 million from the Hugo Chávez administration. Some years, the Venezuelan contribution represented more than 80% of all income for the foundation.
Venezuela in Spain's campaign
Podemos' connection with Venezuela, and its lack of public support for the release of political prisoners there, has been used by the Spanish opposition to portray the party as an instrument of chavismo in Spain.
If Podemos reaches power, warn its opponents, Spaniards may end up with a similar regime and find themselves lining up for food and basic household products.
Meanwhile, Podemos leader Pablo Iglesias has been downplaying the connection. In a recent interview, he said that he was disappointed with the way things have developed in Venezuela, but added: "Don't count on us to support those who are trying to use Venezuela as a campaigning tool back in Spain."
Spaniards are voting in a fresh general election on June 26. In late May, Ciudadanos candidate Albert Rivera flew to Caracas to meet with opposition leaders and demand the release of dissidents.
The money transfers ended in 2011. Chávez himself died in March 2013, and was succeeded in the post by his vice-president, Nicolás Maduro.
In December of last year, voters in Venezuela handed opposition parties a historic landslide victory over Maduro's Socialists in hotly contested legislative elections, which ended 17 years of parliamentary rule by backers of chavismo.
"There's a saying in Venezuela: if you don't owe anything, you shouldn't fear anything," said Guevara in a telephone conversation with EL PAÍS. "There shouldn't be a problem with getting them to cooperate. We've already been in touch with agents from the Venezuelan government who were involved at the time, and analyzed whether the type of tasks entrusted to the foundation bore any relation to the amount of money it was paid, and the answer was no, it was an exorbitant amount of money."
This is not the first time that Podemos has been dogged by claims of illegal financing
Guevara is now asking Podemos leaders to come to Caracas to offer their version of events.
The government of Venezuela hired CEPS to perform advisory, training and technical work in various agencies, according to the Assembly's documents. The foundation says it worked for Venezuela the same way it would work for any other country, but the Venezuelan opposition feels it was paid "an exaggerated amount of the nation's funds" and that this fact may have "contributed to the extreme crisis in social, economic and health terms" currently gripping the country.
Another one of the documents in the Assembly's power states that CEPS "maintains close ties" with Podemos. "If these ties are proven, they would involve party financing and acts that violate Spanish legislation, and therefore irregular hiring by the Venezuelan state."
The document goes on to say that it is not illegal in Venezuela to hire political advisors, "but the sums paid out are potentially striking, particularly when one analyzes the type of service performed; by proving the link between the CEPS foundation and the political party Podemos, the hiring would be illegal in the eyes of the Spanish state."
This is not the first time that Podemos has been dogged by claims of illegal financing. One of its founders, Juan Carlos Monedero, stepped down shortly after it emerged that he had made €425,000 from advisory work for the governments of Venezuela and other Latin American nations, and failed to declare this income to Spanish tax authorities. Monedero denied allegations that he used this money to fund the new party.
English version by Susana Urra.