THE AMERICAS
Argentineans take to the streets to protest against gender violence
South American country's female murder rate is five times that of Spain's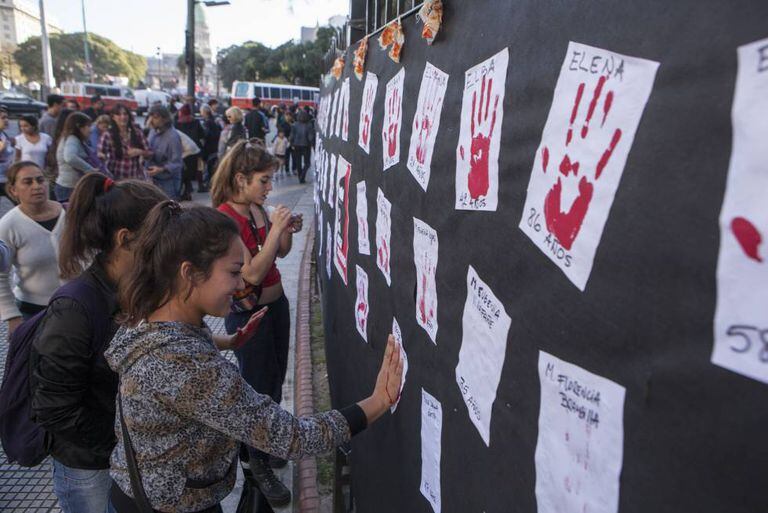 A year on from unprecedented protests throughout the country to protest violence against women, little has changed in Argentina, where 275 gender-violence-related deaths have been reported over the last 12 months, a figure similar to previous years, say women's rights groups.
To highlight the problem, demonstrations have again been organized in the main towns and cities of the South American country on Friday under the slogan Ni una menos (Not one less).
Campaigners want to see a law approved in Congress that would automatically deprive men convicted of violence against their partners of custody of their children
A march organized on June 3, 2015 marked a turning point in raising awareness of Argentina's high rate of female killings. Each day brings dozens of beatings, along with a murder every 30 hours, according to Fabiana Túñez, the president of the National Women's Council. "Gender-specific violence has not declined, that is the first analysis," she says.
There are no official figures in Argentina, which has a population of 43 million people, covering violence committed against women. In Spain, which has a population of 46 million, 57 women were murdered by their partners in 2015; in Argentina the figure is 286. In Spain, gender-specific killings are tallied by the police, but in Argentina, the task falls to civic associations that scour newspaper reports and agencies. The Argentinean government has promised to begin a register of such deaths, but the first figures will not be released until 2017.
In the meantime, says Túñez, measures to protect women are underway: 25 refuges are being built to add to the existing national network of 94. At the same time, more resources are to be provided to follow up reports of violence on the 144 emergency telephone line. What's more, men who have been convicted of violence against their wives and partners and have been issued with restraining orders will now have to wear electronic tags. "This changes the paradigm: it is now about monitoring the aggressor to keep him away, rather than the woman having to guarantee her own safety," says Túñez. The measures are part of a national plan to eradicate gender-specific violence that will be unveiled next month.
Ada Beatriz Rico, who runs women's rights group La Casa del Encuentro, says that things are moving in the right direction, but that Argentina still has a long way to go. She wants to see a law approved in Congress that would automatically deprive men convicted of violence against their partners of custody of their children. "At the moment, they are excused for psychological reasons and then the aggressor uses that in court to regain custody," says Rico.
Journalist Ingrid Beck
But the female journalists and writers of Ni Una Menos that organized last year's protests are pessimistic. "The majority of the demands we made a year ago have still not been addressed," says journalist Ingrid Beck. "The murders of women are just the final link in the chain, the most tragic moment in a process of violence, most of which is just accepted. That said, she believes that the protests of 2015 at least marked a turning point: "What we see now for example is that some guy who's going to say something disgusting to you in the street will at least think twice."
The organizers of the protests all say it will take time to change men's attitudes in a society where sexism is deeply rooted. But thanks to last year's campaign, they add, gender-specific violence not only made it on to the political agenda, but is now more widely reported in the media, and discussed in homes and schools.
English version by Nick Lyne.
Sign up for our newsletter
EL PAÍS English Edition has launched a weekly newsletter. Sign up today to receive a selection of our best stories in your inbox every Saturday morning. For full details about how to subscribe, click here.