The fight to stop jihadist radicalization in Spain's jails
A program that has been in place for two years keeps prisoners under close surveillance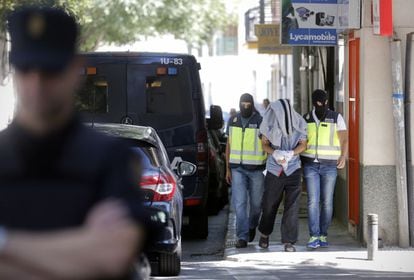 The 94 prisoners held in Spain's jails for committing acts of jihadist terrorism are kept under constant surveillance as part of a program aimed at preventing radicalization of other inmates, newly released data by Penitentiary Institutions, the body that oversees the country's prison system, reveals.
Among the prisoners mentioned in a weekly report to which EL PAÍS has had access is the ringleader of a jihadist cell that was operating out of Spain's Moroccan enclave of Ceuta – which, along with neighboring Melilla is home to most of Spain's Moroccan-born population – that recruited volunteers to fight in Syria and Iraq until 2013, when 11 of its members were arrested and jailed in the first convictions in Spain for this kind of activity.
The most recent arrests in connection with Islamic terrorism were not radicalized while they were in jail Ángel Yuste, Secretary General of Penitentiary Institutions
The ringleader, who has not been named, sent around 100 recruits to fight for the so-called Islamic State, at least six of whom died in suicide attacks that killed dozens of people.
Telephone conversations between prisoners and family are routinely tapped. In one a prisoners asks his wife about their children, as well as talking about life in jail. He also says he is worried about his mother, who lives in Syria.
All information collected by monitoring prisoners is analyzed, while any contact the prisoner may have on the outside is also put under surveillance, along with the imams who visit the prison on pastoral duty.
"Why have you left the house?" one inmate is reported as asking his wife, phoning from Melilla, who has just finished telling him there has been a minor earthquake there. "You should never go out, you must follow God's plan! Don't do it again!" he admonishes her.
Meanwhile, following the attacks last month in Brussels, the Jihadists voice their support for the so-called holy war, calling out to other prisoners: "Looking at what they are doing to us in Syria, all young Muslims should think like the boys who placed those bombs!" Or: "What do they expect if they're bombing Syria?"
The jihadist women recruiting for ISIS
Growing numbers of female Jihadist prisoners are becoming recruiters for the so-called Islamic State, encouraging young women to go to Iraq and Syria to marry fighters there, says Spain's Penitentiary Institutions.
That said, the majority of jihadist inmates are male and are aged between 19 and 35 years old. Eighty percent are Moroccan, Algerian, Pakistani, or Syrian, and most have either Spanish or Moroccan citizenship. Half are married with children and most are legal residents in Spain. The majority are on remand although almost all are detained in high security centers.
There are some 7,000 Muslim prisoners in Spain's prisons, and the job of preventing them from being radicalized by Jihadists is difficult. The anti-radicalization program has divided its target group into three subgroups: A, which has 94 prisoners (up from 45 when the program began almost two years ago), and includes those who are either on remand or have been sentenced for a jihadist terrorism offense; B, which has 34 prisoners (up from nine) who are considered "potential radicalizers", and that includes men doing time for non-Jihadist offenses but who are potential recruiters "because of their leadership qualities, their experience in a conflict zone, because they command respect among the prison population, or who are deeply religious or traditional". According to the experts, these potential recruiters might work on isolated individuals or reduced groups, and are able to generate ample resources.
The last group, C, is made up of 95 prisoners (up from 33). These are the inmates the authorities consider are most susceptible to radicalization. "They are prisoners who have a limited and dogmatic vision of religion, people who have been let down and are frustrated with their lives. Equally, they may be loners, people who are insecure and are ready to blame the West for everything that has gone wrong in their lives," say the prison authorities.
Establishing the success of the anti-radicalization program will take time, but Ángel Yuste, the secretary general of Penitentiary Institutions, insists it is already producing results, pointing out: "The most recent arrests in connection with Islamic terrorism were not radicalized while they were in jail."
He also cites a number of jihadist cells that have been busted thanks to information gleaned by the program, also mentioning a prisoner named only as A. Chiakhi, aged 42, who was originally sentenced for domestic violence, but who was charged late last year for recruiting fellow inmates about to complete their sentences to fight for Islamic State. According to Yuste, "this goes to show that we can work together to prevent attacks."
English version by Heather Galloway.