Number of suicides doubles that of road deaths in Spain for first time
A total of 3,910 people took their own lives in 2014, a record high for the third year in a row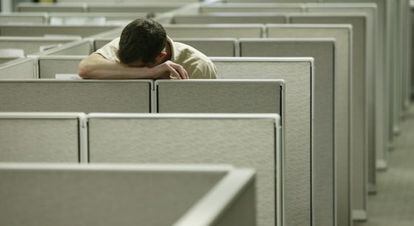 Suicides in Spain reached a record high in 2014 for the the third year in a row.
The National Statistics Institute (INE) reported that 3,910 individuals took their own lives, twice as many as died in road accidents.
It is also the highest number on record since 1980, when the INE began releasing this information.
The 2014 suicide figure represents a 1% increase from the previous year.
The INE also revealed that a total of 395,830 people died in Spain in 2014 (the latest year with available figures), or 5,411 more than in 2013. Of these, 96.2% died of natural causes.
Statistics show that in 2014, suicides were the main cause of unnatural death. By comparison, there were 1,873 traffic fatalities. The latter figure has been dropping since 2007, when the points-based driver's license was introduced in Spain.
By comparison, suicides have been on the rise for decades. There were 1,652 recorded cases in 1980, 2,939 in 1990 and 3,393 in the year 2000.
Santiago Durán-Sindreu, a psychiatrist who specializes in suicide cases at Sant Pau Hospital in Barcelona, is concerned about this upward curve.
"It looks like this trend is here to stay," he says. "Whatever the reason – and saying that it's the economic crisis is a very simplistic argument – the increase in cases is significant enough that public agencies should get to work on prevention programs."
The data show that many more men than women ended their own lives
Unlike countries such as Norway, Sweden, Denmark or Britain, Spain does not have programs of this nature, either at the regional or national level.
Durán-Sindreu says this omission may be due to cultural factors – "suicide continues to be a taboo subject at all levels" – and geographical ones as well: until recently, Mediterranean countries had low suicide rates.
Only Catalonia has something akin to a suicide prevention program. Código Riesgo Suicidio, introduced in late 2015, is a protocol by which health services get in touch with patients who have attempted suicide, rather than the other way around. The idea, says Durán-Sindreu, is that this will "force them to get treatment."
Sign up for our newsletter!
EL PAÍS English Edition is launching a weekly newsletter. Sign up today to receive a selection of our best stories in your inbox every Saturday morning. For full details about how to subscribe, click here.
The data show that many more men than women ended their own lives: of the 3,910 recorded suicide cases in 2014, 2,938 were men and 972 were women. Older people are also more prone to suicide, with a rate of 22.5 per 100,000 inhabitants in the 85-to-89 age range, compared with the overall average of 8.42.
"That is the age of loss: loss of autonomy, new chronic diseases... All these factors exacerbate depressive symptoms which may lead to suicide," says Durán-Sindreu.
English version by Susana Urra.