Bullfights that spare the bull?
Valencia mayor endorses Portuguese-style encounters the day after fans stage march in the city
A day after thousands marched in Valencia to defend bullfighting, Mayor Joan Ribó suggested adopting the Portuguese style of the practice, in which the bull is not killed.
The local leader, who belongs to the leftist Compromís party, defended a "synthesis" that would preserve the cultural elements of the fiesta while respecting the animal's life.
"Confronting a scared animal that only wants to run away from the ring is not an act of courage
Animal rights manifesto
"There are countries where this is being done, and I think it would be interesting if we in Spain could reach a deal by which the bulls did not get that treatment [death in the ring]," he said.
On Sunday, supporters of bullfighting had marched in Valencia ahead of the city's world-famous Fallas festival, which features the burning of large papier mâché effigies in the streets.
Protestors gathered downtown at around 3pm to cries of "Freedom! Freedom!"
Meanwhile, detractors yelled "Killers! Killers!" from behind a police security cordon.
Leading figures from the bullfighting world were on hand to defend their profession, including the matadors José Tomás, El Juli, José Mari Manzanares, César Rincón and Enrique Ponce.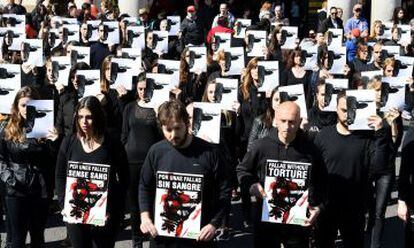 Several Valencian politicians including Isabel Bonig, leader of the regional branch of the conservative Popular Party (PP), also joined the march in support of los toros.
Enrique Ponce read a manifesto defending the activity as "a cultural asset that is protected by the Constitution" and described it as "a vehicle of social and human values, and a basic staple of biodiversity in our country."
The march was undertaken to coincide with a bull event whose 12,000 spectators later joined the street protest.
Meanwhile, around 20 animal rights activists protested in front of City Hall, wearing Fallas costumes stained with red paint and demanding a ban on bullfighting.
Some demonstrators wore black and a sign on their chest that read: "For a bloodless Fallas, abolish bullfighting." Their own manifesto stated that "confronting a scared animal that only wants to run away from the ring is not an act of courage."
A shift to the left
After regional and municipal elections in May 2015 signaled a shift to the left in many parts of Spain, several authorities announced cutbacks to official support for bullfighting. In Madrid, fights are no longer advertised on the city's official tourism website. The Balearics Islands may change current legislation protecting bull-related events. Catalonia held its last fight in 2011.
Meanwhile, the bullfighter Morante de la Puebla has pressed a lawsuit against a Dutch animal rights activist who called him a "murderer" outside the Ronda bullring, and the provincial government of Castellón has fined 35 activists €6,000 each for preventing the celebration of a local fiesta known as bou embolat, in which firecrackers are attached to a bull's horns.
In 2015, there were over 8,200 local fiestas involving bull runs or other events featuring these animals, a Valencia government study found. Around 52% of all municipalities in the Mediterranean region have some kind of event featuring bulls.
English version by Susana Urra.