2015 Spanish general elections
Podemos deputy causes stir by bringing baby to Congress
Carolina Bescansa took her son to her seat in Spain's lower house on Wednesday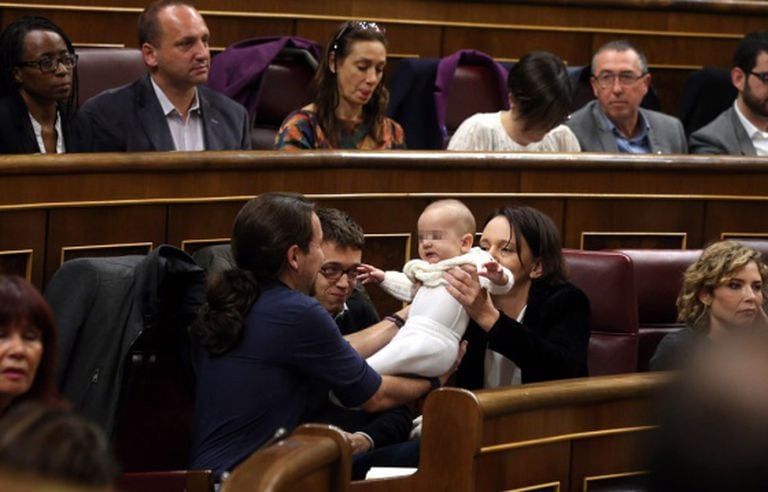 Podemos deputy Carolina Bescansa caused quite a stir on social networks on Wednesday, after she arrived in Congress at the constituent session with her months-old baby. Spain's lower house does offer a crèche for deputies, but the politician chose instead to take her child with her to her seat.
Podemos leader Pablo Iglesias was also photographed during Wednesday's session with the child in his arms.
"Carolina Bescansa is nursing her baby from her seat in Congress while the vote count continues."
Today is not the first time that Bescansa's baby has taken a trip to Congress. The deputy also brought her child with her when she was sworn in as a deputy and has also been present at a number of party events.
On Wednesday the Podemos member requested that photographers did not take pictures of the child. That proved to be mission impossible, however, especially when colleagues such as Pablo Iglesias fussed over the little boy.
"With the utmost respect, but no one can just take their child to work. Privilege or posturing."
While rare, the sight of a small child in Spain's parliamentary houses is not unprecedented. Catalan Socialist Party (PSC) Senator Iolanda Pineda had previously taken her baby with her to Spain's upper chamber, after she came back to work after her maternity leave in May 2012. She did so to call for a remote-voting system in the Senate, as she later explained. "I decided to come with him first because given that I am breastfeeding we cannot be apart from each other for long, and because yesterday Congress approved the option of remote voting during maternity leave and it seems to be discriminatory that this can be done in one chamber and not the other," Pineda said at the time.
"Carolina Bescansa has taken a baby to Congress because not drawing attention to herself on the first day would have been just boring."
The crèche was installed in Congress during the Socialist government of Prime Minister José Luis Rodríguez Zapatero. Deputies have to pay to use it, it has 45 places and offers a special emergency service should parents need to leave their child their urgently.
English version by Simon Hunter.