How a Rio neighborhood united to save a missing young man
Residents team up to help reunite homeless 20-year-old with his mother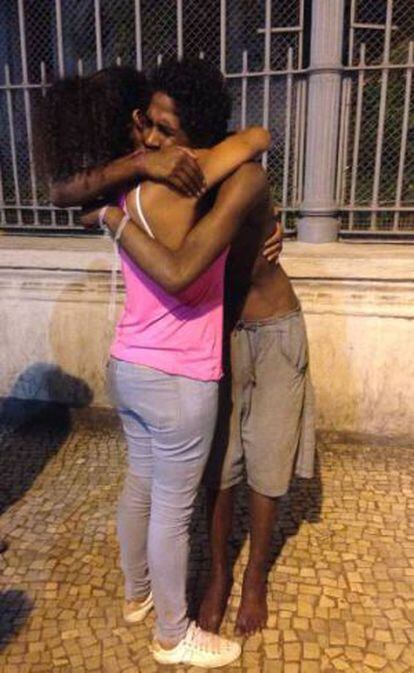 For days, Victor Soares wandered the streets of Catete, a neighborhood in the south of Rio de Janeiro, under the furtive glances of the residents. The 20-year-old man was barefoot, dirty from head to toe, and shirtless. He slept wherever he fell, sometimes in the middle of the road, sometimes naked and hidden away between the cars. He begged for food and money so that, he said, he could go to a cybercafé and try to contact his family. Victor could have continued as just another of the hundreds of homeless people who live on the city's streets, but Paula Menezes decided against indifference and, a few days before Christmas, published his photo on Facebook.
"Who else is kept awake by this young man's hallucinatory screams?" she asked in an online neighborhood group of more than 11,000 people. "I called City Hall and they told me it might take up to 15 days to pick him up, and only if he wanted them to. I called emergency services because he shouts and hits his head against the ground, but they said they were not going to go around in an ambulance looking for a disoriented man and that this was the job of social services. I called the police because he was naked and aggressive and they told me to call emergency services."
That same day dozens of people from the group began to give the man food and walk with him as he wandered between the Flamengo and the Gloria neighborhoods. It was not easy. Victor used to fix elevators for a living but he suffers from undiagnosed psychiatric problems. He would slip away like an eel every time someone tried to approach or stop him.
Rejane had been looking for her son for five months, ever since he suffered an apparent psychotic breakdown and left the family home in São Paulo
On Saturday, Juliane Jacinto used the scant amount of information she had about Victor to search for some answers online. She found his profile on Facebook and that of his mother, Rejane. According to Jacinto, Rejane had been looking for her son for five months, ever since he suffered an apparent psychotic breakdown and left the family home in São Paulo. It was the second time he had run away. His mother printed 2,000 posters with his face on them and posted them around the city. She could not believe that this huge group of people, which normally only chatted about muggings, lost dogs and pruning trees, had found and cared for her son for almost two weeks. She bought a bus ticket and went to Rio, not knowing exactly how her son had ended up 400 kilometers from home.
While his mother traveled to Rio, the online group published a log of Victor's location every few minutes. Five hundred comments chronicle their efforts to accompany him around the streets that day. No one could force him to stay in one place, but they were determined not to lose sight of him just before his mother arrived.
On Monday, Juliane joined Rejane and they tried to catch up with Victor. But, Rejane, out of breath, lost him in the hillside neighborhood of Santa Teresa. Night fell and Victor had yet to resurface. Rejane was tired and frustrated but Paula invited her to stay at her house for the night. Meanwhile, neighbors told Victor's story to security guards at supermarkets, owners of newspaper kiosks, motorcycle taxi drivers and City Hall employees who promised to send firefighters if Victor showed up. They all joined a WhatsApp group to tell everyone if there was a Victor sighting and decided to wait for the next day to continue the search.
Minutes after midnight, cellphones began to vibrate. Someone had seen Victor again. Half a dozen neighbors jumped out of bed, changed, and headed out to follow him on foot, on motorcycles or in taxis. Victor wandered aimlessly, but walked quickly, and the neighbors were concerned they might lose him again.
As he approached the metro station in Gloria, right at the corner where motorcycle taxi drivers had gathered to join the search, he started to speed up. Two drivers who had received an alert via WhatsApp threw themselves at him and tackled him to the ground. Victor, who had failed to notice all the people trying to catch up with him, was frightened. He screamed and cried – until he saw his mother. And while they hugged and hugged, firefighters arrived to take Victor to a hospital and the group cheered, cried and savored the fact that they were no longer strangers to one another.
English version by Dyane Jean François.