The Christmas lottery launderers
Winning tickets are sought out by crooks looking to avoid paying tax on their ill-gotten gains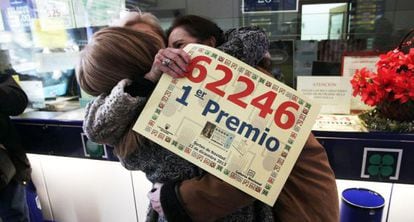 In the hours after the winning numbers in Spain's massive El Gordo Christmas lottery are drawn every December 22, discreetly dressed men and women carrying suitcases stashed with bank notes fan out across the country headed for bars, lottery outlets, and banks before the fortunate owners of the prized tickets cash them in. Acting on behalf of wealthy clients, their mission is to buy their winning tickets: they pay cash, ask no questions, and offer a generous bonus on top. It's a very simple way to help reduce their clients' tax bill.
Lottery tickets are untraceable, so unless we are present when they are bought, it is pretty much impossible to establish who originally purchased them"
Tax inspector José María Peláez Marcos
"Everybody knows that the Christmas lottery has always been used to launder money," says veteran tax inspector José María Peláez Marcos, adding that it is almost impossible for the authorities to detect this kind of fraud.
"Lottery tickets are untraceable, so unless we are present when they are bought [...] it is pretty much impossible to establish who originally purchased them," he says.
According to Spain's OCU consumer rights organization, winning lottery tickets can be sold on for up to 20 percent more than their value. But the association warns that the seller of a winning lottery ticket will then have the problem of explaining to their bank and the tax authorities how they came into so much money, and may end up being fined.
The odds of buying one of the big winning numbers are one in 100,000 – the amount of El Gordo ticket numbers available – so it's little wonder that the authorities are suspicious when well-known figures such as Carlos Fabra, the former head of the Popular Party-run provincial government of Castellón, are photographed holding a winning ticket for the umpteenth time. Fabra, who is currently serving time for corruption, won the lottery nine times in 10 years.
In 2011, another Popular Party (PP) politician, Enrique Crespo, the former mayor of the small town of Manises, in Valencia province, was seen on television toasting his good fortune with his colleagues after winning second prize in the Christmas lottery, although he was unable to say just how many tickets he had. It turned out that the local PP had bought 850 décimos – or tenth shares in a ticket – with the winning number.
Crespo, who was being investigated for corruption at the time, was summoned by a local magistrate that very day and given 24 hours to explain how many winning tickets he had bought. Crespo admitted he had purchased just one. "The judge was smart and fast," says tax inspector Peláez, noting that this case was very much the exception. Public prosecutors later asked for Crespo to serve a three-year prison term for having allegedly hidden 99 other tenths of the winning number, equivalent to €12.3 million.
But Spain's Christmas lottery is not always the best way to launder money, says Peláez. "You have to bear in mind the amount," he notes. In El Gordo, the maximum prize for a décimo is €400,000. "It's doubtful that this is going to solve the money-laundering problems of somebody involved in criminal activities," says Peláez, adding that it is a more attractive system for somebody who has the equivalent of three or four décimos, which is to say less than €2 million.
"If you want to buy 20 décimos, you have to buy them from a number of different people, and this increases the risk of somebody finding out what you are up to," continues Pérez, pointing out that when it comes to large amounts of money, most people looking to avoid paying tax use other means, such as keeping their money in offshore accounts. But for "those who have a bag full of money at home earned from illegal commissions and bribes, the Christmas lottery is still the simplest way to launder money."
The OCU website warns lottery winners against selling their winning tickets, even when offered generous incentives. The main problem is proving the origin of the money to your bank. If the tax office becomes involved, it can impose heavy fines.
The organization illustrates the dangers with an example: a person with an average annual income of €30,000 who wins €400,000 on the Christmas lottery and sells their winning ticket for €450,000 could face a fine of more than €200,000.