Soaking up San Sebastián
The best places to eat, drink and be entertained in the 2016 European Capital of Culture
The Basque city of San Sebastián is this year's European Capital of Culture – a title it is sharing with Wrocław in Poland – and there is an almost palpable excitement in the air.
The city has already had plenty of practice in organizing international events: its film, jazz and classical music festivals date back to 1957, 1966, and 1939 respectively, and the Cultural Capital's organizers are confident Donostia, as it is known in the Basque language, will more than live up to its reputation for excellence, leaving behind a legacy for future generations.
The city has preferred to spend the cultural capital budget on local talent and restoring existing buildings
San Sebastián 2016 director Pablo Berástegui highlights the importance of that cultural legacy, saying the city has avoided spending huge amounts of money on new infrastructure, preferring instead to use its budget on local talent, as well as restoring existing buildings, such as the refurbished fire station that is currently his project's headquarters, as well as the Tabakalera arts center, located in a renovated 19th-century former cigarette factory that now houses a cinema, multimedia archive, so-called creativity laboratories, a hotel for artists in residence, microtheater and concert spaces, cafés, a restaurant, and a rooftop terrace with spectacular views over the city. It is also the new home of the film festival and the Basque film archive.
The Tabakalera has breathed new life into the Eguía neighborhood, across the Urumea river, which Berástegui calls San Sebastián's Brooklyn. Perhaps that's overstating things, but Eguía does have a certain bohemian charm and is popular with the city's younger and more fashionable residents. Le Bukowski (Egia, 18) and Dabadaba (Mundaiz, 8) have both teamed up with San Sebastián 2016 to support a music festival in the Cristina Enea park, just behind the Tabakalera. The park will be playing a big role in the year-long festivities: for four days in mid-June, to coincide with the summer solstice, it will be the location for an open-air, Spanish-language production of A Midsummer Night's Dream (www.donostiakultura.com).
In March, another local bar, Gazteszena, will be hosting its own blues and soul festival, called Mojo Workin.
San Sebastián has more Michelin-starred restaurants than any other city in Spain, an achievement reflected in the outstanding quality generally found in its eateries. Two vegetarian restaurants worth checking out in Eguia are Km.0 (Duque de Mandas, 35) and Garraxi (Tejería, 9).
The old quarter, known locally as Lo Viejo, is packed with places to eat and drink. Try Bodegón Alejandro (Fermín Calbetón, 4), which provides a new twist on traditional Basque cuisine, and for a more traditional approach, head to Gandarias (31 de mayo, 23).
The bars in Lo Viejo are also justly famed for their pintxos, the Basque equivalent of tapas. A good starting place is Calle Pescadería, where Néstor offers the city's best steaks and Spanish omelets, and opposite is the more sophisticated Zeruko, famed for its lobster pintxo. Nearby are Atari (Mayor, 18) and La Viña (31 de agosto, 3). There's also an excellent cake shop in the Plaza de Guipúzcoa called Barrenetxe.
There are far worse things to do of an evening in San Sebastián than a gentle bar crawl along Calle Fermin Calbetón: among the highlights is Sport. On nearby Calle Mayor is Paco Bueno, run by a former boxer and famed for its fried prawns in batter. To finish the night, head for four bars in the old port: Ensanche (San Vicente, 1), Akerbeltz (Mari), the Iguana (Esterlines, 5) and Etxekalte, which has live jazz.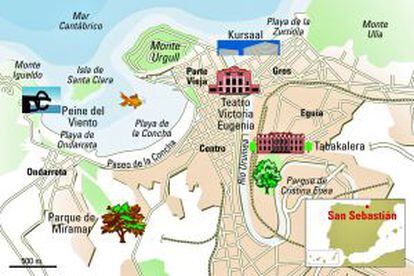 A couple of streets in from the seafront is the Gros neighborhood, where on Thursdays the bars on Calle Zabaleta offer free pintxos. Highly recommended are La Guinda, and on nearby Calle Iparraguirre, Melbourne, run by an Australian. Bernadina (Vitoria-Gasteiz, 6) and Xarma on Avenida de Tolosa are also a must. If you fancy an early night with a book and a bottle of wine, head to the Donosti bookshop on Plaza de Bilbao, and then the Ezeiza licor store (Prim, 16).