Two Ferraris given to King Juan Carlos will go under the hammer
One of the cars – both gifts from the United Arab Emirates – has two scratch marks
Two Ferraris given to Spain's King Juan Carlos by the United Arab Emirates government in 2011 are to be auctioned off by the Finance Ministry for around €350,000 each.
The news of the auction was published last week in the government's Official State Gazette. Potential buyers will be able to present their offers up until October 30, and the envelopes containing the bids will be opened on November 6.
The cars have been shut up in the Zarzuela Palace waiting for National Heritage to take care of them
The two four-seater Ferrari FFs – one silver gray, one black – were both presents from UAE Prime Minister Sheik Mohammed bin Rashid Al Maktoum following a visit by the Spanish monarch to watch a Formula 1 race in the country in November 2011.
The king subsequently decided to donate the gifts to Spanish National Heritage, which has now handed them over to the central government for auction.
The cars have been stored without being used in a garage in the Zarzuela royal palace in Madrid, waiting for National Heritage to take charge of them.
According to an expert valuation report, the gray vehicle "has a slight scratch mark on the left front side and rear side," as well as a "slight dent on the back wheel," while the tires show "hardly any wear."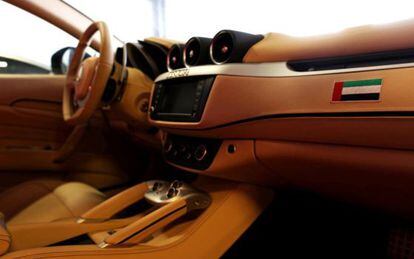 Together with the 763 kilometers on its clock, these minor imperfections – barely visible at first glance and whose origins are unknown to the Finance Ministry – are presumably the reasons why the vehicle has been priced at €345,000, €5,000 less than the flawless black model, which has never been taken out.
Registered in September 2012, the cars both boast a 6,262cc V12 engine that produces 486 horsepower.
The valuation report also includes a more detailed description of the cars' basic and optional features, which include: a silver dedication plate, leather mats, handheld extinguishers, 20-inch alloy sports wheels with a diamond finish, a rear-seat entertainment system, leather trays, a high-power sound system, front and parking cameras, colored steering wheel, TV tuner, a TV screen for passengers, and tinted rear windows.
English version by Nick Funnell.