Catalan premier calls last November's referendum "a democratic rebellion"
Artur Mas denies disobeying a court injunction against the vote, but now faces charges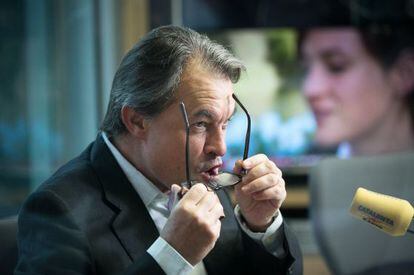 Catalan premier Artur Mas on Wednesday denied having "disobeyed" a court injunction against the informal referendum on independence that his government held on November 9, 2014.
A day after being named an official target of an investigation into that vote, which Madrid considered illegal, Mas offered his version of events.
"Legally I did not disobey; politically it was a democratic rebellion against the Spanish state: I just took out the ballot boxes," said Mas, whose separatist Junts pel Sí bloc won last Sunday's parliamentary elections in the region.
It was the reaction of an enraged government hurt in its pride, acting bluntly and incapable of dialogue"
Catalan premier Artur Mas
Mas, the most visible face of the pro-independence movement, has argued that the central government's flat refusal to address Catalonia's demands for greater fiscal benefits, followed by its opposition to a Scottish-like referendum on self-rule, pushed the region into holding the non-binding vote in November of last year.
Shortly afterwards, the Catalan premier and two aides were charged with disobedience and other crimes that could get them barred from office if tried and found guilty.
But in a Wednesday interview on Catalunya Ràdio, Mas argued that the vote he helped organize was essentially different from the one preemptively suspended by the courts.
"We replaced that consultation with something we called 'participatory process,' which was also appealed and suspended, but then we asked exactly what it was that we were supposed to suspend, and the Constitutional Court never replied," he said.
Although he would not detail whether he would disobey in the event that he should be barred from public office, Mas said that the legal action against him – begun by state prosecutors – is a reflection of the Popular Party (PP)'s attitude towards Catalonia.
"It was the reaction of an enraged government hurt in its pride, acting bluntly and incapable of dialogue," he said.
Regarding the cost of the vote, which yielded a majority support for independence but was regarded of little formal value by outside observers, the figure has been estimated at €8.9 million.
Mas said that part of this money has subsequently been put to good use. The computers that were purchased for the count, for instance, were later donated to schools.
The Catalan premier will be heard by the Superior Court of Justice of Catalonia on October 15, a memorable day for Catalan separatists because it marks the anniversary of the execution of ex-Catalan leader Lluís Companys by Franco's forces in 1940.
Asked about this coincidence, Mas replied that "I have no calling to be a martyr or a hero, I'm just trying to be a modest servant of this country."
English version by Susana Urra