Facebook comment lands locksmith in trouble under new 'gag law'
Post complaining about "coffee-drinking" police deemed to breach new security legislation
Juan Carlos Puyoles is a self-employed locksmith who provides a 24-hour call-out service in the small town of Pizarra, in the interior of Málaga province. In the early hours of September 15, he was prevented from attending a call due to a car that was parked in front of his garage, despite there being a sign there that clearly indicates no parking. When he tried to contact the town's municipal police station by phone, there was no reply.
What I wrote on my Facebook page didn't refer directly to anybody, nor did it incite hate, or anything of the kind"
Angry at what had happened, and with the aim of drawing the mayor of Pizarra's attention to what he saw as a failure by the local police, he wrote about it on his Facebook page. The next day, police officers visited his house to tell him he faced prosecution for "making comments that were disrespectful to the local police of Pizarra."
Puyoles had unwittingly fallen foul of Spain's new Citizen Safety Law, which has been criticized by opposition parties, human rights groups, and even the European Union.
"I haven't insulted or disrespected anybody," says Puyoles. "What I wrote on my Facebook page didn't refer directly to anybody, nor did it incite hate, or anything of the kind. All I was doing was reporting a lack of a public service. I needed to get to work and couldn't because nobody answered the phone to help me."
Puyoles has since removed the comment from his Facebook page, but explains that he wrote something along the lines of: "It's 1.30am, I'm calling the police and they aren't there, but you can find them having a cup of coffee in the village up the road every morning."
EL PAÍS hasn't been able to confirm the exact wording of the original post, but the version above matches that which Pizarra police officers supplied to Málaga regional daily eldiario.es.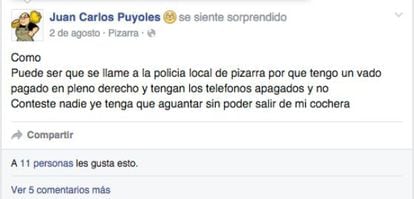 Another post on his Facebook page, from August 2, also complains about a car parked in front of his garage. "It was the second time it had happened. I was trying to get out of my garage and couldn't, because a car was parked there. I have to pay to keep access to that entrance, and I don't understand why there aren't officers available at all times to deal with problems like this."
The local police's complaint against Puyoles has now been sent to the provincial authorities in Málaga, who will decide whether to proceed with it. According to the Citizen Safety Law, Puyoles could be fined between €100 and €600. "Let's see what happens," he says. "The provincial administration could ignore it, but if they try to fine me, then I will take this all the way to the top, because I believe it is totally unfair."
About verne
Puyoles says that had he known what would happen, he wouldn't have said anything on the popular social network. "When I linked the comment to the mayor of the town, I was looking to get a response. She came round to my house the next day to check on the no parking sign," says Puyoles. "I don't understand why the officers in question are so upset that I said they have a cup of coffee. I have a lot of friends who are in the police. I was in the army, and I have always had the greatest respect for the security forces."
Failing to respect the security forces or publishing photographs of members of the police or armed forces on the internet are punishable under the new security legislation, which came into force in July.