NATURAL DISASTERS
Extremadura forest fire sees 1,400 residents evacuated from homes
Number of blazes in 2015 already exceeds similar incidents in Spain in previous two years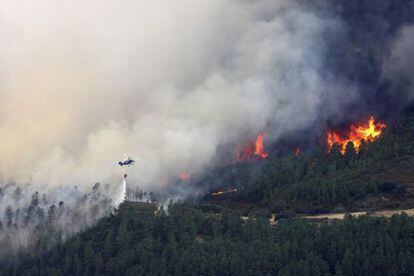 A forest fire has forced the emergency services to evacuate 1,400 people from Acebo and Perales del Puerto, both of which are located in the Sierra de Gata mountains, in the Spanish region of Extremadura. A number of campsites also had to be cleared due to the blaze.
Residents have been taken to nearby Cáceres and Moraleja, where, in the latter municipality, they are being housed in conference centers, according to the Red Cross in Extremadura.
Efforts to fight the blaze were complicated in the early hours of the morning due to strong winds. According to the regional government, emergency services from the region and the Red Cross have sent units there to deal with the incident.
Thursday saw forest rangers, five fire trucks, five planes, eight helicopters, six heavy plant vehicles and a total of 13 air and ground units fighting the fire.
The number of major blazes – i.e. those that exceed 500 hectares – and the total area of ground that has been scorched by forest fires this year already exceeds the data for 2013 and 2014 up to July 26, according to information from the Agriculture and Environment Ministry.