IMMIGRATION
Moroccan migrant dies after hiding in vehicle trunk during ferry journey
Brother tried to help his sibling sneak in to Almería by concealing him inside a suitcase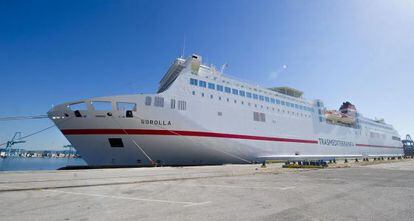 Just minutes before docking at the port in Almería, the crew of the Sorolla passenger ferry from Melilla got the first warning. A 34-year-old Moroccan national, identified only by his initials A. M., rushed to the boat's information desk on Sunday to report that his brother, who was hiding inside a suitcase stored in the trunk of his vehicle, had suffocated.
The 27-year-old man, N. M., was apparently trying to sneak into Europe but died sometime during the five-and-a-half-hour trip, the Civil Guard said.
Civil Guard officers arrested the victim's brother, who holds a French passport and lives and works in France
"The young man also had signs of dehydration," police sources said.
Witnesses on board said that he had suffocated from the heat. "The doctor couldn't do anything for him," one reported.
Civil Guard officers arrested the brother, who holds a French passport and lives and works in France. Officials believe that the two were planning to continue their journey to the neighboring country after they got off at Almería.
The two brothers boarded the ferry in Melilla shortly before 3pm. After passing through inspection controls, A. M. left the vehicle in the ferry's car deck and went to the passenger area.
"No one can remain in the vehicle area during the trip. If someone needs something from their vehicle, they can ask the crew for permission. But they must be accompanied by a ship crew member at all times," said a Transmediterránea ferry line official.
Minutes before docking, passengers are allowed to access their vehicles. It was at this time that A. M. discovered his brother had suffocated.
The suspect was taken to Almería police headquarters, from where he was due to be taken before a judge.
Last May, Spanish authorities arrested the father of an eight-year-old boy from Ivory Coast after they found that he had hidden his son in a suitcase as he tried to cross into Spain from the exclave of Ceuta. The X-ray image of the youngster concealed inside the piece of luggage made headlines worldwide.
English version by Simon Hunter.