LOCAL AND REGIONAL ELECTIONS 2015
Parties switch tactics to court huge proportion of undecided voters
Up to 45% of those in the 13 regions holding elections on Sunday have yet to make a choice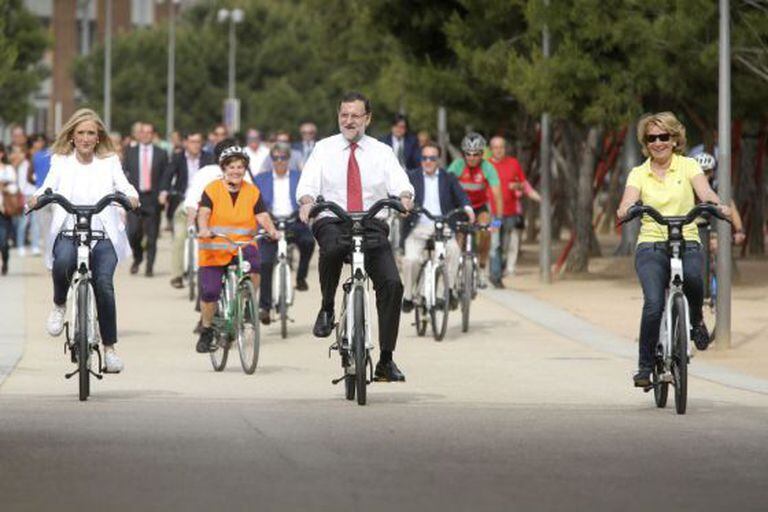 With just five days to go, the outcome of Sunday's municipal and regional elections is more uncertain than ever.
The presence of new parties Podemos and Ciudadanos on the Spanish political scene has introduced an unprecedented element of instability in voting intention.
Polls are showing significant shifts in allegiance from one survey to the next, while undecided voters still represent between 30 and 45 percent of the total electorate in the 13 regions that are holding a vote.
Parties are adapting their rhetoric to attract as many supporters as possible before polling stations open
This makes last-minute campaigning all the more decisive, and parties are adapting their rhetoric to attract as many supporters as possible before polling stations open on Sunday.
In a fragmented new setting where the Popular Party (PP) and the Socialist Party (PSOE) are no longer the two obvious choices for a majority of voters, both political parties and election experts underscore that at this point, nobody really knows what's going to happen.
In Madrid, the latest surveys show a technical tie between PP mayoral hopeful Esperanza Aguirre and Manuela Carmena, the head of the leftist Ahora Madrid coalition that includes anti-austerity party Podemos.
Yet only 10 days ago, political veteran Aguirre had a 10-point lead over the largely unknown Carmena. Analysts point at the conservative politician's tendency for confrontation as a reason for her declining support.
"With Carmena, the more people get to know her, the more they choose to support her," says José Pablo Ferrándiz, an expert at polling firm Metroscopia.
Madrid may be the clearest case of a neck-and-neck race, but no other contender in any part of Spain is going to let his or her guard down over the next five days.
"The last 15 days are decisive," confirms the Metroscopia expert.
As election day looms with the race still wide open, the two majority parties will ask voters for their support to avoid having to depend on the newcomers to get municipal and regional legislation passed.
The conservative PP, which stands to lose its hold on many regional governments, is not only trying to shake any potential dependence on Ciudadanos, which it describes as short on ideas, but is also going to lengths to warn about "the radical message" and "extreme-left ideology" of Podemos, its main rival according to most voting intention polls.
Meanwhile, Ciudadanos is trying to attract all the protest votes against the two-party system, and is adopting a harsher tone against rival newcomer Podemos.
"Let's drop the Game of Thrones," said party chief Albert Rivera at a campaign rally, in reference to a meeting at the royal palace in which Podemos leader Pablo Iglesias gave King Felipe VI a box set of the HBO television series.
Meanwhile, the anti-austerity party is adopting a more inclusive tone that seeks to appeal "to those who have been let down by this or that party," in the words of Podemos number two Íñigo Errejón.