Prosecutors launch probe into fishing ship that sank off Canary Islands
Authorities considering sending down a deep-sea robot to examine the sunken ship Civil Guard has rescued an endangered turtle from the area covered in oil
Prosecutors have opened an investigation into the sinking of a Russian fishing vessel that caught fire inside the port of Las Palmas, in the Canary Islands, and was towed out to sea.
Fuel oil slicks have already been detected in the area where the ship went down, 15 nautical miles south of Maspalomas, in waters off Gran Canaria.
The Civil Guard rescued a loggerhead sea turtle, an endangered species, covered in oil after surveying the area at the request of the environmental prosecutor from Las Palmas, Javier Ródenas.
The fuel oil detected by the maritime safety agency was reported to have spread over an area of 12 square kilometers
Public Works Minister Ana Pastor was in the Canaries on Thursday to coordinate the anti-pollution plan that went into effect as soon as the first slicks were reported.
During a press conference, Pastor said that the authorities are examining the possibility of sending down a deep-sea robot to examine the condition of the sunken ship, the news agency Europa Press reported.
The fuel oil detected on Wednesday by the maritime safety agency was reported to have spread over an area covering around 12 square kilometers.
The minister did not specify whether the slick had increased in size, but said that "the greatest concentration of fuel oil is 40 miles southwest" of the place where the ship sank, outside Spanish territorial waters.
The Oleg Naydenov was carrying 1,500 tons of fuel in its tanks when it sank to a depth of 2,400 meters on Tuesday.
The investigation launched by the local prosecutor's office is being described as "preventive."
The handling of this case has been criticized in the Canaries, where islanders are highly sensitive to environmental dangers due to their economic reliance on tourism.
The ship burst into flames inside Puerto de la Luz on Saturday. Due to the risk of an explosion, authorities decided to tow it out to sea on Tuesday. The fire was extinguished, but the vessel ended up at the bottom of the ocean.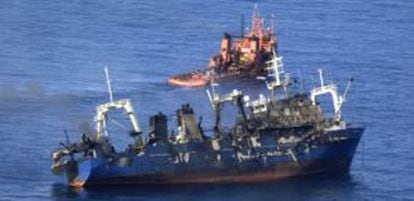 Some green groups are already comparing it to the Prestige case in 2002, when an oil tanker was towed out to sea off the coast of Galicia and broke apart, causing a spill that became Spain's worst environmental disaster.
The Spanish secretary of state for the environment, Federico Ramos, said that comparing both events is "demagoguery," noting that the Prestige had 77,000 tons of oil in its hold.
Greenpeace has asked the minister to specify how the government plans to "extract the fuel from the fishing vessel's tanks."
This group is concerned that the tanks might break and leak out their content, and has called for an investigation into the decision to "take a ship that was at port out to open seas, and subject it to an erratic and unnecessary course in an area with high environmental value."