GENERAL ELECTIONS 2015
New voter poll shows Podemos still in the lead but losing momentum
Ciudadanos continues to rise rapidly, confirming that four parties will vie for power at polls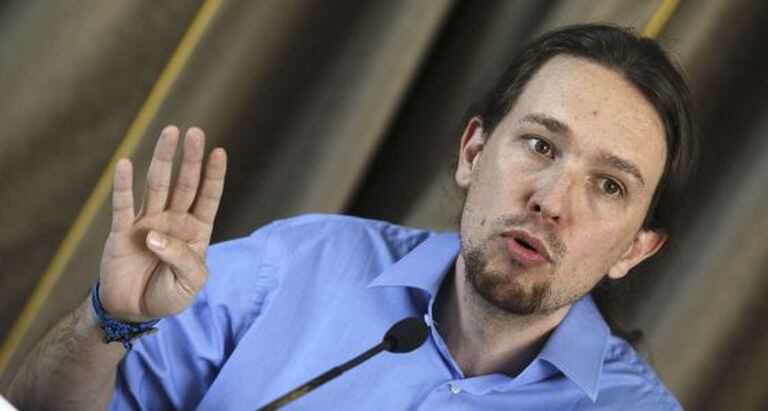 A new voter intention poll reveals that four political parties are firmly in the running for local, regional and general elections in Spain, which are coming up in May and November.
The results increasingly raise the question of whether the Socialist Party (PSOE) and Popular Party (PP) will ultimately manage to retain the alternating hegemony over power they have enjoyed since the 1980s, or whether there will be an upset victory by a newcomer, as many predict.
With only three points separating the first and fourth party, poll organizers describe the results as a technical tie
The April poll conducted by Metroscopia for EL PAÍS mostly reiterates the message conveyed by citizens in February: Podemos, Spain's new anti-austerity party, continues to lead voting intention with 22.1 percent support, followed by the Socialists with 21.9 percent and the governing Popular Party with 20.8 percent (the latter two have swapped places since February). Another new group, Ciudadanos, continues to narrow the gap between itself and the others with 19.4 percent backing.
With only three points separating the first and fourth party, poll organizers describe the results as a technical tie.
But what emerges is that backing for Podemos is losing its initial momentum and is beginning to plateau, losing five percentage points from February, while Ciudadanos continues to rise rapidly with an increase of more than seven points over the same period.
While Podemos's losses mostly favor the Socialists, the fact that all four are trawling for votes in the same grounds means that they all consider each other adversaries, and are adjusting their message accordingly.
Thus, Podemos has added Ciudadanos to its list of targets after focusing on the PSOE and PP, both of which they describe as a self-serving elite concerned only with perpetuating itself in power ("the caste").
According to Podemos, Ciudadanos – a small party that started life in the Catalan parliament and has since expanded nationally on a message of pragmatism – does not represent change, but just a replacement of the caste. This new focus on C's, as Albert Rivera's party calls itself, reflects the fact that it has already started to take support away from Podemos, which is often described as populist and radical.
Former prime minister Felipe González, a major figure in Spanish socialism, jumped into the fray in a television interview at the weekend, where he surprised audiences and even his interviewer by stating that Podemos leader Pablo Iglesias does not remind him of himself as a young enthusiastic leftist politician, but rather of the conservative Popular Party leader José María Aznar, who was prime minister of Spain from 1996 to 2004.
"The truth is, I don't identify with him," said González, 73, on a program called De viaje con Chester, aired on the private network Cuatro. "His body language and the way he says things make him a lot more similar to Aznar."
González also added a reference to Podemos' alleged sympathies for left-wing authoritarian regimes from Latin America, based on the fact that several of its leaders worked for deceased Venezuelan president Hugo Chávez and initially advocated defaulting on Spain's debt. "The only thing that puzzles me about Podemos is why they are not defending their Bolivarian proposals."