Paleolithic cave art found in Cantabria
Regional government has closed off access to Aurea Nota site after discovery of marks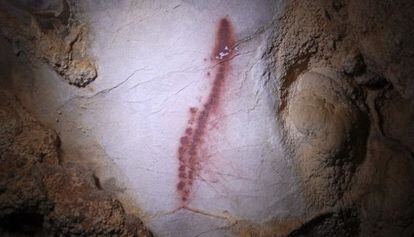 A variety of geometric shapes, stains, discs and other marks in ochre and reddish colors, and possibly dating from the Paleolithic era, have been found inside a cave in the northern Spanish region of Cantabria.
The find was made inside a natural hollow known as Aurea Nota, located in the Desfiladero de La Hermida mountain gorge, around 50 meters over the Deva river, in the municipality of Peñarrubia.
Authorities immediately closed off access to the cave, the regional government said.
Preliminary reports have talked about the possibility that the paintings were made by humans who lived during the Paleolithic period, probably from a pre-Magdalenian culture.
The Cantabria regional government has already underscored the importance of the site for cultural and scientific purposes, and noted that Aurea Nota is the first documented site containing Paleolithic cave art in the Cantabrian section of the Deva river.
Because it is also located more inland than other caves, "it represents a notable contribution to Cantabria's cultural heritage," said regional authorities.
Cantabria is already home to around 60 sites containing cave art, 10 of which are Unesco World Heritage Sites. One of the world's most famous cave art sites, Altamira, is located in Cantabria.
The natural depression that constitutes Aurea Nota slopes down and branches out into narrow passages and small halls. The floors show remains of contemporary animal life, occasionally covered with stalagmites. The walls are smooth and white due to a layer of calcite, constituting an excellent canvas for art.
The regional government has already underscored the cultural and scientific importance of the site
The speleologists who alerted authorities to the presence of the paintings sent in photographs showing the markings found inside the deepest hall. These walls contain geometric compositions created with vertical rows of dots made with fingertips dipped in dye.
There is also a horizontal row, an isolated dot and several reddish stains. The corridor leading out features a red disc that appears to have been made using a blowing technique.
The government of Cantabria said there was a significant difference in the state of conservation of the wall decorations located near the entrance – which are practically gone – and those inside the deepest hall, which are in excellent condition.