Iberian Lynx returns to Madrid region after 40 years
Male released in Toledo hills last November tracked around 50 kilometers from capital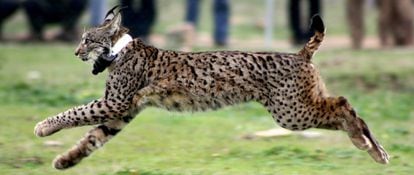 The Iberian lynx, the planet's most threatened feline, has set foot in the Madrid region for the first time in more than four decades. Kentaro, one of eight of the cats released on November 26 in the hills of neighboring Toledo, has already covered around 100 kilometers, mostly in Toledo and Cuenca provinces, crossing several motorways during his journey. He has also passed close to the Madrid regional town of Aranjuez, around 50 kilometers south of the capital.
"He's packed his bags and set off on his travels," says Ramón Pérez de Ayala, the head of the World Wildlife Fund's Life+Iberlince project. "We've been lucky because the roads he has crossed are well fenced and he hasn't been run over. He will have followed the fences until he found a bridge, and then crossed over there."
Not all lynxes are this adventurous. They tend to stay close to where they were born" Ramón Pérez de Ayala, head of the WWF's Life+Iberlince project
Kentaro was born in captivity in Portugal a year ago, and has now set out to find his own territory, says Pérez de Ayala. "Not all lynxes are this adventurous. They tend to stay close to where they were born. Another of the four males released at the same time along with four females initially seemed to have set off toward Portugal, but has since returned to the hills of Toledo.
The WWF team has been able to follow Kentaro and his fellow lynxes' movements via a GPS collar that sends out a signal every four hours. It says that much of the zone in which he has been monitored is part of Natura 2000, an EU-wide network of protected natural areas. Pérez de Ayala says he believes that the other cats will likely have followed him into these protected parklands. The goal of the Spanish project is to establish a population in Toledo of at least five reproducing females, which would create a population of between 30 and 40 individuals by 2017.
WWF is calling on the regional government to help protect lynxes under regional and national environmental legislation.
Pérez de Ayala says that at present, none of the areas where Kentaro and the others have been monitored have any special measures in place to protect felines. Once the animals begin to reproduce they will disperse and it will be harder to follow their movements. "This is why it is so important that the areas where they might settle have measures in place to help follow their progress," says Pérez de Ayala.
In 2006, a researcher at the Spanish National Research Council claimed to have found lynx DNA in droppings discovered in a bird protection area close to where Kentaro and the others were released, and where the regional government was planning to widen a main road. After questioning the findings, which were later found to be true, the regional government went ahead with the road project.
The WWF aims to achieve a sufficiently large enough lynx population throughout Spain to guarantee the survival of the species, which is threatened with extinction: thanks to the WWF, the population has risen from 94 in 2002 to 332 in 2013.
Last year at least 21 lynxes were run over and killed in Spain. In 2013, 14 animals died on the roads. "We are starting to have a lot of problems on the roads in areas where there are lynx populations. These roads need to be fenced off. There are also a great many motorways that are still not fenced," says Pérez de Ayala.
Another option is to clear dense undergrowth and brushwood from the sides of roads so lynxes will spot the car headlights and be scared away.
Wolves back in Madrid mountains
After an absence of seven decades, a pack of wolves has been living in the Guadarrama National Park, around 60 kilometers northwest of the capital, for the past two years. Wolves had been spotted in the area since 2007, but it was not until 2013 that the decision was taken to establish a community here of two males, a female and three cubs, brought from further north in Castilla y León, where the species has now established itself.
Farmers in Guadarrama have reported several attacks by wolves on livestock: the most recent was in January, when around 30 sheep died.
The Madrid regional government's environment department says it will be putting aside €60,000 this year to compensate farmers for loss of livestock to wolves and wild dogs, three times the amount for last year.