Castellón airport finally receives its first flight
"White elephant" gets operating license nearly four years after controversial inauguration
José Luis and Joaquín, two retired members of the Grau de Castellón flying club, on Thursday became the first people to land an aircraft at the infamous Castellón airport. Three years and nine months after its inauguration, the airport has finally received a flight.
"We were having breakfast in the bar of the flying club and we read in the paper that you could fly there now, so I said to my friend, 'Why don't we go?' And so we did," explained José Luis on his return.
The pilot, who counts on 30 years of flying experience, flew a helicopter into the airport. His friend counts on 35 years of experience, but only flying planes. The inaugural flight lasted just 10 minutes. After the pair had a look around the building itself, they returned to their flying club a half-hour later or so.
The visit was made possible after the Spanish Air Safety Agency (AESA) awarded the license that the airport needed to begin operating. SNC-Lavalin, a Canadian company, will run the facilities for the next 20 years, and will receive €24.5 million from the Valencian government to do so in the first nine years.
Chartered flights will come later, while commercial airlines will only begin flying to and from Castellón after March of next year.
This, at least, was the forecast made by airport director general Alain Russel on Thursday, speaking at the airport terminal.
Russel did not confirm the existence of any closed deals with airlines to operate regular routes, but he did say that the airport will be fully open by next summer and that it will handle 35,000 passengers in 2015.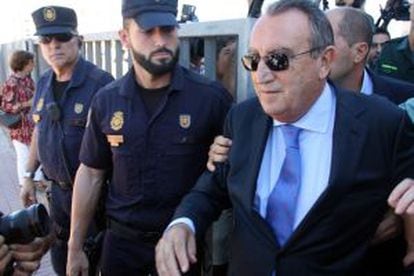 The building had been closed to the public since 2011, when central authorities stopped the politician Carlos Fabra – formerly airport president, head of the provincial authority of Castellón and leader of the provincial branch of the Popular Party, and now in jail for tax fraud – from using the airport for electoral purposes.
"Some people say we are crazy for inaugurating an airport without airplanes," said Fabra on the day of the controversial inauguration, in March 2011. The event was covered by The Guardian, The Telegraph, The New York Times and other international media outlets, who called Castellón airport a prime example of a white elephant, a project born from the boom times in Spain's construction sector, which came to an abrupt end with the start of the economic crisis in 2008.
The regional government ended up paying for the construction of a facility that was going to come free of charge to taxpayers, as it was going to be built by the private sector with an expected return on investment after 50 years. In the end, however, Valencia's public coffers had to disburse €120 million for construction work, plus an additional €50 million in compensation, cost overruns and external work.