THE FIGHT AGAINST TERRORISM
Dozens of jihadists with Spanish links thought to be fighting in Syria
Spain is considered to be a platform for the recruitment and transfer of combatants to the war zone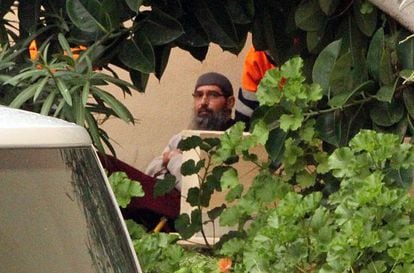 Spanish anti-terrorist authorities are convinced that jihadists from Spain have joined the ranks of the Islamic State (IS) terrorist organization, but say they do not know how many there are or how many have returned, and have identified just a handful. According to a police spokesperson, "between 30 and 40 people with a Spanish passport" have flown to Syria to wage their own holy war.
Reports from the Interior Ministry suggest that 60 Spaniards have been recruited by networks that operate within Spain. What's more, the Moroccan authorities believe that 1,200 of their nationals who hold Spanish residency cards have joined IS. But the numbers are vague – the only official list contains 12 names: nine are Spaniards, and three residents in Spain. And five of them are already dead.
Confirmed cases
Abdeluahid Daduk Mohamed, born in Ceuta in 1985, was detained in January on his return from Syria. He was fighting with the Islamic State until he was assigned a suicide mission and decided to escape.
Rachid Hossain Mohamed, Mustafá Mohamed Layachi and Mustafá Mohamed Addesalam, all from Ceuta, died in suicide attacks carried out by the Al Nusra Front, which is linked to Al Qaeda and is now at loggerheads with IS due to its brutality. Abdellatif el Morabet and Bilal el Helka, both Moroccan nationals with Spanish residency, have also died.
Mohamed Hamduch, Kokito, aged 28, trains Spaniards and Moroccans who travel to Syria. He has appeared in photos posted on jihadist websites posing with severed heads.
An Interior Ministry report reveals that in October 2013 "it was detected that an average of 30 people a month, including men, women and children, were being recruited and sent to Syria." But the same document underlines that the number later fell dramatically.
Spain is considered a platform for the recruitment and transfer of terrorists to Syria. Around a hundred combatants of a number of nationalities – mostly French and Moroccan – have passed through the country. The main bases for recruiters are the cities of Ceuta, Melilla, Barcelona and Madrid. But the networks have also managed to enroll radicals in the Moroccan cities of Fnideq, Al Hoceima, Tangier, Nador and Tétouan – all of which are located close to Spain.
"We know that a lot of people living in those cities and with residency in Spain have been recruited," anti-terrorist sources say.
"We know that a lot of these combatants want to come back and are trying to negotiate their return with the Moroccan authorities," explains a police chief. "Given their proximity to Ceuta and Melilla, we have all of our alarm systems activated."
'Kokito' has appeared on jihadist forums showing off the severed heads of five Syrian soldiers
For now, the only Spaniard who has definitely come back from Syria is Abdeluahid Daduk Mohamed, who was born in Ceuta in 1985 and is married with two children. He was captured in Málaga last January when he returned from Turkey, after having fought with the Islamic State. He claims he returned to escape a suicide mission that he was given by the leaders of IS. He is now in custody.
The best example of a Moroccan terrorist from IS with strong links to Spain is Mohamed Hamduch, Kokito, aged 28 and from Fnideq (also known as Castillejos), which is located close to the Ceuta border. Kokito, who is married to a Spanish woman, was well known in the Ceuta neighborhood of El Príncipe, and was recruited to fight by 51-year-old Spaniard Mustafá Maya Amaya, who was arrested by the police in March in Melilla.
Kokito has appeared on jihadist forums holding a bloody knife in his hand and showing off the severed heads of five Syrian soldiers. The intelligence services are convinced that recruits from Ceuta and Morocco have been trained by Kokito.
The main problem faced by Western intelligence services is how to identify those who have joined IS. Interpol has put together information about more than 500 alleged foreign combatants and their motivation for fighting in conflict zones. "All we know for sure are the names of several of them, because their families have come to us concerned about their son, their brother or their husband having gone off to fight," an anti-terrorist source explains. And from the same family members it is known that at least four of them have died in combat or in suicide attacks. "The problem will come if they return, or if they have already returned, without us knowing about it," the same source adds.