Ex-Barcelona soccer club boss named as official suspect in Neymar tax fraud case
High Court judge summons Sandro Rosell to testify on June 13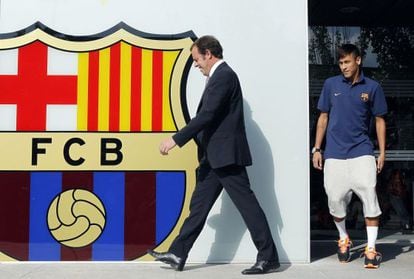 Barcelona soccer club and its former president, Sandro Rosell, have been summoned to testify before Spain's High Court on June 13 as official suspects in an investigation into alleged financial crimes related to the signing of Brazilian player Neymar.
Judge Pablo Ruz handed down the decision in a ruling that takes into account a Tax Agency report stating that the club failed to make tax payments of €2.4 million in 2011 and €6.7 million in 2013 by not declaring all of the contracts involved in the transfer of the soccer player – a total of €9 million.
The Tax Agency has also documented a possible fraud of €2.6 million relating to the 2014 tax year, the judge said.
Judge Ruz has also summoned employees from the club's auditor, Deloitte, to appear as expert witnesses, as well as requesting a number of documents, including those relating to the voluntary tax payment of €13.5 million made by the club after a complaint of financial wrongdoing was lodged with the courts.
The payment does not exempt Barcelona from the charge because it was made after the judicial proceedings had already started.
The Spanish Tax Agency believes Barcelona committed tax fraud to the tune of €9 million in the signing of Neymar. Barcelona originally stated that the transfer had cost €57.1 million, but selling club Santos said it had only received €17.1 million for the player. It later transpired that Barcelona had paid a €40-million fee to the company N&N, which is owned by Neymar's parents.
FC Barcelona club member Jordi Cases subsequently lodged a complaint of financial wrongdoing with the courts, leading Judge Ruz to open an investigation based on Cases' claims and causing  Rosell to resign as club president.
Rosell's replacement, Josep Maria Bartomeu, waived a confidentiality clause to reveal that the actual fee paid for Neymar was €86.2 million, taking into account a series of add-ons. The voluntary tax payment of €13.5 million to the Spanish tax authorities brought the total cost of Neymar's transfer to €99.7 million.