CINEMA
This week's movie releases
Angelina Jolie turns nasty in 'Sleeping Beauty' remake 'Maleficent' Tom Cruise keeps springing back from the dead in Doug Liman's sci-fi actioner 'Edge of Tomorrow'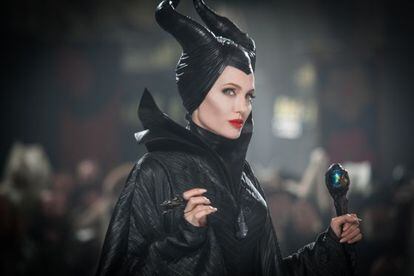 Angelina Jolie turns very, very bad in Maleficent, Disney's live action retelling of its 1959 animation classic Sleeping Beauty as seen from the perspective of its horn-capped villain. Driven to the dark side by a betrayal, Jolie's revenge-thirsty villainess curses baby Princess Aurora (Ellie Fanning) to prick her finger on a spinning wheel and die before she turns 16. Special effects whiz-turned-director Robert Stromberg's debut also features Sharlto Copley (District 9), Sam Riley and Juno Temple.
Groundhog Day meets Starship Troopers in Edge of Tomorrow, a high-concept sci-fi action flick starring Tom Cruise and Emily Blunt and directed by Doug Liman (The Bourne Identity). Cruise plays a military officer fighting an alien invasion who, video-game style, keeps bouncing back from the dead to relive and refine his battle plan over and over again.
Romantic comedy drama Thanks for Sharing stars Mark Ruffalo struggling to stop his sex addiction from ruining his relationship with new girlfriend Gwyneth Paltrow. Supporting him along the way are fellow addicts Tim Robbins and Josh Gad, both trying to keep their own impulses under control.
Adapted from Doris Lessing's short story The Grandmothers by Dangerous Liaisons playwright Christopher Hampton, Anne Fontaine's Adore stars Naomi Watts and Robin Wright as two mothers in New South Wales who fall for their respective sons.
The only Spanish feature to compete at Cannes this year – in the Un Certain Regard section – Beautiful Youth is the fifth feature from Barcelona-born director Jaime Rosales, best known for 2007's Solitary Fragments. Natalia (Ingrid García-Jonsson) and Carlos (Carlos Rodríguez) are a young couple struggling to survive in crisis-ridden Madrid who, upon discovering they have a baby on the way, decide to shoot an amateur porn movie.
Two years after it earned Mexico's Carlos Reygadas the Best Director Prize at Cannes, Post Tenebras Lux finally gets released in Spain. Bursting with striking, foreboding imagery, its partly autobiographical plot follows a Mexican family whose move to the country leads them into conflict.
Rocked out
Elena Anaya (The Skin I Live In) plays an agoraphobic former rock star entirely dependent on her mother in Beatriz Sanchis' Todos están muertos. Realizing her time is running out, mom concocts a plan to get her daughter to snap out of her slump and reconnect with her teenage son.
Lluís Miñarro's historical drama Stella Cadente follows the brief reign of Amadeo I of Spain (Alex Brendemühl) from 1870 to 1873, a period characterized by growing republican sentiment. With Lola Dueñas, Lorenzo Balducci and Bárbara Lennie.