For God, for Spain... and for Tejero?
Controversial dinner for coup plotter highlights sense of entitlement among Civil Guard's top brass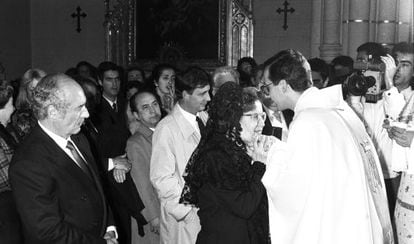 Little had been heard about Spain's last coup plotter since February 23, 1981 (known popularly as 23-F), when Civil Guard Lieutenant Colonel Antonio Tejero stormed Congress in a failed bid to overthrow the country's fledgling democracy.
Since that day 33 years ago, Tejero, who is one month shy of 82, has led a quiet and reserved life with the single exception of a public appearance in November 2012, when he accused Catalan premier Artur Mas of "sedition" over his sovereignty drive for Catalonia.
Although his followers – who were never plentiful to begin with – have scattered with the passing of the years, Tejero's son Antonio, a lieutenant colonel with the Civil Guard, just like himself, recently organized a dinner as a tribute to his father at a barracks. The now-infamous "Tejero paella" was allegedly attended by a number of his comrades during the coup attempt.
The incident has brought to light the enduring privileges among the military police force's top brass, as well as the sense of entitlement among this reduced group, among whom intermarriage and family dynasties are common.
Antonio Tejero is married to Carmen, who is the daughter of a civil guard. They have three sons (Antonio, Ramón and Juan) and three daughters (Carmen, Dolores and Elvira). Two of these sons are Civil Guard officials, while two of the daughters are married to military men, one of whom, José Eugenio Ruiz Seco, is a Civil Guard general and a candidate for lieutenant general, the top position in this law-enforcement agency.
Antonio and Carmen have 16 grandchildren, three of whom have also embarked on careers as Civil Guard officials. The family saga continues, although little is known about how much these descendants agree with the patriarch's ideas, since discretion has always been a hallmark of the Tejeros.
There is one family spokesman, however, and that is Ramón, one of Tejero's sons. A man of the cloth, Father Ramón is the parish priest in La Cala de Mijas (Málaga), where he recently countered accusations that the paella party was in fact a covert tribute to the failed coup of 1981.
"My brother was not celebrating anything," he said. "At home, we never celebrated 23-F. Certain people are making that up. It is like Satan's black smoke, as Paul VI used to say."
The family saga continues, although little is known about how much these descendants agree with the patriarch
Father Ramón has been well accepted by the people of Mijas, where he adopted a very populist attitude right from the beginning to earn his parishioners' trust and encourage them to forget certain episodes from his past, such as the time he ran in elections with the far-right group Solidaridad Nacional or the fact that renowned former coup members came to see him ordained as a priest. In a letter written to the conservative daily Abc in 2009, Ramón defended his father: "He is an exceptional man. A loyal friend. An honorable Spaniard and an honest, truthful Christian."
So where are the boundaries between family and duty? General Ruiz Seco seems to have been very scrupulous about avoiding any association with his father-in-law. He has never made a single public reference to him, even though both men were stationed in the Basque Country for a while.
But Antonio, Tejero's eldest, appears unable to resolve the inner conflict. A lieutenant colonel at the Valdemoro barracks, he chose this public building as the venue for the paella dinner for his father that has attracted so much criticism. Yet this is far from the first time that Civil Guard officials have used public facilities and employees for private parties. Old habits that have since been phased out in the army still endure in Spain's gendarmerie, such as using raw recruits as personal hairdressers, gardeners, sweepers and bricklayers for the benefit of officials. No interior minister has yet managed to completely eradicate these practices.
The place where the famous paella dinner was held is an illegal eating facility known as La Fragua, run by Tejero Jr himself, who has a reputation as a despotic man, regularly ordering guards to cook meals and clean rooms on weekends there.
At Valdemoro, Tejero Jr is reported to have acted like an absolute leader, using La Fragua to receive visitors and impress them with parades and weapons displays. Rumor has it that these visits were meant to pave the way for his ambition to become a general. On February 18, 2014 he decided to organize a paella dinner for his father and 12 other diners whose identities have not all been released yet. The tab was 2,000 euros, according to witnesses.
Is it legal to use public workers and public facilities for private events, even if permission has been granted? Have similar events taken place in Valdemoro on other anniversaries of 23-F? And how many private parades did Tejero Jr organize? These matters go beyond the family surname.