Three-star club gets new member
David Muñoz's restaurant DiverXo brings Michelin Guide's highest honor back to Madrid after two decades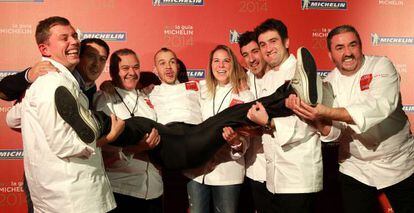 Only one head chef from Spain will be getting a third star in next year's Michelin Guide to Spain and Portugal, it was announced on Wednesday night at Bilbao's Guggenheim Museum. David Muñoz, who runs Madrid-based DiverXo, is the lucky recipient, and his inclusion will bring the total number of top-rated Spanish restaurants to eight.
The other seven three-starred establishments, most of which are either Basque or Catalan, are Akelare, Arzak, Azurmendi, El Celler de Can Roca, Martín Berasategui, Quique Dacosta and Sant Pau, all of which "have maintained the high level of their services," according to Michelin.
DiverXo, which earned its second star in 2012, has been elevated to the top of the podium because chef David Muñoz has shown "exceptional creativity," Michelin said. "He fuses a diversity of cuisines filled with aromas, flavors and delicate textures."
"These things are pleasing," said a modest Muñoz, 33, who had been widely expected to get a third star for his risky "traveling cuisine," which is based on a combination of Asian and Madrid-style cooking. A branch of DiverXo is due to open in London in the spring.
As Spain reveled in success stories, Portugal only had two new stars to celebrate
"A historic debt with Madrid has been repaid," said Muñoz at the Bilbao ceremony, where he dedicated the win to his team and to his wife Ángela, who is the maître d' at DiverXo. Muñoz was referring to the fact that Madrid had not had a three-starred restaurant since 1997, when the first Spanish establishment to earn that distinction, Zalacaín, was demoted.
"This is a revolution," said Mayte Carreño, sales and marketing director for Michelin Spain, following the announcement. Carreño underscored that the guide is showing support for "the new generations of risk-taking chefs."
Yet the guide is not taking any risks when it comes to the number of distinctions handed out. "We are happy for the winners, but we miss seeing more of them," said Joan Roca, chef of the three-starred El Celler de Can Roca, currently considered the best restaurant in the world by Restaurant Magazine.
Although the pundits were predicting three stars for Óscar Velasco and his restaurant Sant Celoni in Madrid, and for Jordi Cruz, at Barcelona's Ábac, both were disappointed. But Catalans nevertheless dominated the evening with seven new distinctions, including Jordi Cruz for his other establishment, L'Angle; Carles Gaig for his relocated Gaig; and Tickets and 41º — both of which are run by Albert Adrià, brother of elBulli guru Ferran Adrià — which also gained a star.
Other stars were handed out to restaurants in La Rioja, Santa Cruz de Tenerife, Valencia, Alicante, Gijón, Teruel, Almería, Toledo and A Coruña. In total, Spain now has one new three-star establishment, two that have been promoted to two stars, and 20 that have gained their first.
Meanwhile, Portugal only had two new stars to celebrate: one for the Lisbon-based Eleven and another for L'And Vineyards in Montemor-o-Novo.