ACTION AGAINST EVICTIONS
Anatomy of an 'escrache'
Protestors say there are no more avenues for their mortgage reform campaign Police told to identify doorstep demonstrators with first fines in the pipeline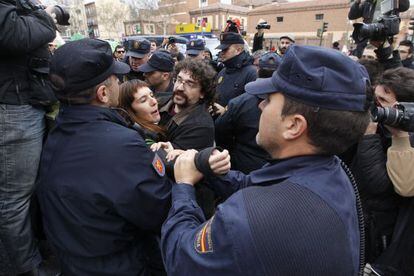 The police officer leans across to ask the person closest to the protest placards: "This wouldn't be one of those escraches, would it? No politician is coming, right?" "No, not at all!" exclaims the man, who is standing with 20 other people near Gregorio Marañón Hospital in Madrid. It is Thursday April 4, at 6.10pm.
Then the same man turns around, grabs a loudspeaker and proclaims: "Good evening to all! Thank you for coming. This is a peaceful escrache. Do not use personal insults."
After that, he explains what they are going to do: they will go stand outside the home of a national deputy and speak with the neighbors about the issue of home foreclosures, and the fact that this particular deputy is not sympathetic to activists' demands for legal changes to prevent the stream of evictions that has been taking place in Spain ever since the onset of the economic crisis.
According to a study released by the College of Property Registrars on Thursday, 30,034 first homes were taken over by banks in Spain in 2012 — the equivalent of 115 for each working day.
Please remember we are a peaceful movement and let's try to keep calm"
In a country with extremely high home ownership rates and soaring unemployment, evictions have taken on dramatic tones, with several cases of people committing suicide minutes before being kicked out of their house making media headlines.
A widespread feeling of injustice over Spain's draconian mortgage laws has coalesced into the Mortgage Victims Platform (PAH), a grassroots movement whose members have managed to stop evictions by physically standing in front of doors. This group also collected 1.5 million signatures, enough to present Congress with a popular legislative initiative (ILP) to change the laws regarding mortgages.
Their latest tactic is the public humiliation of politicians who oppose their demands, by protesting outside their homes or workplaces. It is a technique borrowed from human rights activists in Argentina, where they called it escrache. The word has stuck in Spain, where the media began using it profusely last month.
"Lately there have been several attempts to criminalize us; please remember that we are a peaceful movement and let's try to keep calm," warns the man in charge of the protest.
They asked me to break ranks and vote for the reform; I said I could not"
"Yes they can, they just won't!" the assembled protestors start yelling. The demonstration has begun. They know where they're going, though they have not revealed it to the press, which has turned out in large numbers. Right around the corner from here is the residence of Belén Bajo Peinado, a deputy for the ruling Popular Party (PP) who has also been communications director for the current prime minister, Mariano Rajoy. The protesters found out where she lives following "some research work," explains Julia Alsinet, 26.
After protesting discreetly at the home of Justice Minister Alberto Ruiz-Gallardón, the demonstrators decided to go more public with their protests by calling in the media at every new escrache.
"It was after the Esteban González Pons thing. We want to prove that we're not doing anything violent, that these are peaceful actions," explains 30-year-old Daniel Lozano in reference to the PP official who complained, after an escrache outside his home, that it reminded him of the days when ETA sympathizers marked out the homes of targets of terrorist attacks. "There were children in the house, and they were banging on the door and yelling insults," he said of the Valencia demonstration.
"The PP is convinced that there are many people suffering in Spain, and it is ready to talk with all of them... Protesting is a form of dialogue with politicians, but it has a threshold, violence, which should never be crossed," added Pons. His party has been using the terms "violence" and "harassment" often to describe every instance of escrache in the last few weeks.
Criminalizing citizens is not working; we will not throw in the towel"
Other PP members have gone so far as to compare escraches with Nazis marking the doors of Jewish homes.
One PP deputy, Celso Delgado, found out last Saturday that a group called Stop Evictions had circled his home in Ourense, and rushed there as quickly as possible. Rather than hide, he decided to grab the bull by the horns and went up to the protestors, some of whom he knew personally. After greeting them, he debated the issue of evictions for 20 minutes.
Delgado says he never felt threatened, but disagrees with the idea of signaling where individuals live. Also, despite telling them about the PP's initiatives to make things easier on borrowers, the protestors were unconvinced.
"They want deed in lieu of foreclosure across the board, and that cannot be," he says of the PAH-backed demand for dation in payment to free those evicted of the chains of debt that can last a lifetime. "They asked me to break with party discipline [and vote in favor of the popular reform initiative]. I said no."
We need to fight against the unlimited power of the banking sector"
Delgado also said that "there have always been evictions, and it is noteworthy that in 2011, with the Socialists in power, there were more evictions than in 2012, with the PP in government. And curiously nobody went to protest outside people's homes then."
As part of its drive to zero in on escraches, this week the attorney-general ordered prosecutors across Spain to begin collecting data on protesters who have been heckling elected officials on their personal time, including those who hold rallies outside their homes. The office of Eduardo Torres-Dulce said it was studying whether criminal charges can be filed against participants in these protests.
Leading PAH spokeswoman Ada Colau said on Tuesday that it is "deplorable for state structures to be used to try to criminalize something which is legitimate."
"Criminalizing citizens is not working for them," she added. In the past, the PP government also warned it would curtail public demonstrations in Madrid, alleging they were a bother for the bulk of citizens trying to get to work or their homes.
Backing gets scratchy
FERNANDO GAREA
Escraches outside politicians' homes are getting bad press and drawing heavy insults from the main parties, yet they enjoy notable citizen support: up to 78 percent of Spaniards agree with the pressure campaign initiated by the PAH anti-eviction group, according to a Metroscopia survey for EL PAÍS. Yet nearly a month ago, a similar survey placed support at 89 percent, 11 points higher.
At that point, the word escrache was barely being used. The first action took place on March 13 in Barcelona, in front of the home of PP deputy María de los Ángeles Esteller. Later came the ministers Jorge Fernández and Alberto Ruiz-Gallardón, and the high-ranking PP officials Jorge Moragas and Esteban González Pons.
During this time, rejection of escraches has grown, especially on the part of the government and the PP, who identified the practice with the Nazis who assassinated millions of people, or with the Basque terrorist group ETA, which harassed and killed hundreds of Spaniards in recent decades.
Despite such comparisons, a majority of citizens feels that protests are acceptable, as long as they are peaceful. Around 68 percent of PP voters justify escraches even though they are aimed at members of that party.
The same percentage of citizens feels that this type of protest is protected by freedom of expression, and only 18 percent think it should be a crime.
Behind this support for escraches is a widespread rejection of lenders' behavior during the crisis and general mistrust of measures that may be adopted by the institutions and political parties.
The escraches began as a way to pressure the deputies who will likely vote against the popular initiative for mortgage law reform in Congress. The government initially accepted debating the proposal because of social pressure, but later found a way to reduce its content — demands for retroactive deed in lieu of closure, no more evictions and more subsidized rentals — to a bare minimum. Instead, the PP administration is now centering the debate on the escraches.
In fact, 59 percent of respondents feel that escraches run the risk of concealing the fact that there is an unfair mortgage procedure behind all this.
Also, despite some slight progress in the government's attitude towards evictions following social pressure and a ruling from the European Court of Justice calling the system unfair to consumers, 65 percent of respondents still feel that any new legislation will ultimately be more favorable to the banks than to the debtors. Yet 90 percent of those surveyed think it is necessary to reform the mortgage system to protect borrowers.
Colau warned that the public pressure will continue until their proposed piece of legislation is approved mostly intact. "We will not throw in the towel."
To date, PAH and other groups have only organized escraches in front of the homes or workplaces of PP deputies. Activists say they want to extend their actions to members of the centrist UPyD and the Basque nationalist PNV, whom they believe will join the ruling party in voting against their popular initiative to reform mortgage legislation.
Last Wednesday, another group went to the district office of Puente de Vallecas, a blue-collar area in southern Madrid, where the councilor and national deputy Eva Durán (PP) works. During her escrache, she met with one of the activists and stopped her eviction. On Friday she promised to analyze four more cases.
The PAH is calling it a triumph for social pressure, but Durán claims she felt no pressure "because I was inside my office." But she does not feel the same way about protests outside politicians' homes. "It reminds me of when the Nazis visited homes," she stated.
Back at the Madrid protest, a police officer addresses a participant: "Sir, I need to see some ID, please."
"Why? We're just walking down the street to have an assembly," jumps in Julia Alsinet.
"If you don't identify yourself, you will be in breach of authority. So please, if you'll be so kind." Second refusal. The police take two activists to a fenced area in a corner of the hospital premises. The others scream out from the outside: "Stopping evictions is not illegal!" "What are you going to charge us with, terrorism?" yells one man in the face of a police officer.
Both detainees are released nine minutes later.
"They wanted to scare us," says one of them. The secretary of state for security has issued instructions to police precincts to identify individuals who may be harassing politicians. On Thursday it emerged that 18 people could be facing fines from the government delegation in the capital for participating in an unauthorized demonstration outside the Madrid home of Deputy Prime Minister Soraya Sáenz de Santamaría.
By the time they get to the front entrance, another group is already there. So are police officers, cordoning off the door. Additionally, there are around a dozen reporters and photojournalists. PAH headquarters has drawn up a "protocol for escraches to PP deputies" that is available on its website. There are seven recommendations, including holding escraches during school hours to avoid potentially scaring children inside homes. This time at least, the recommendation is being ignored — it is 6.35pm. Also being ignored is the request not to place stickers anywhere. "The cleaners shouldn't have to spend the next day removing them," reads the online protocol.
The protesters have surrounded the front door and cut off a lane on the avenue. A resident of the building comes down with a shopping cart, gets scared at the sight and decides to stay indoors. Nobody enters or leaves the building in the next 14 minutes. The group reads out a press release demanding changes to mortgage legislation and reminding passersby that the European Court of Justice recently ruled in their favor.
"We have tried all other avenues," they conclude and then ask for permission to insert letters inside the deputy's mailbox. The police does not let them through. "Our life would change with a little bit of dignity if politicians said yes to ILP," reads one of the letters to Belén Bajo, who declined to speak to EL PAÍS.
"It's great that they're protesting. It should be illegal for the bank to take back the home and keep charging people," says Virginia Quiles, a nurse. Sandra, 37, who preferred not to supply her surname, joins the march with her daughter on her shoulders and her son in his stroller. She lives in the neighborhood. "I support them because I think we need to fight against the unlimited power of the banking sector," she explains. The march ends one hour later, in front of Retiro park. Back at the building where Belén Bajo lives, the police continue to watch the door.