Police detain 45 in "human wave" anti-government march in Madrid
Thousands protest cuts across Spain, demanding crackdown on public corruption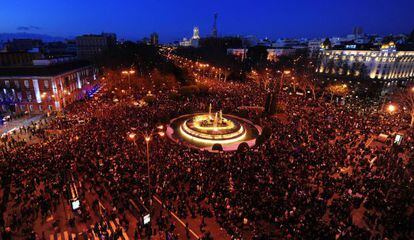 Police arrested 45 people following Saturday's mass demonstration in Madrid, in which thousands of protestors took to the streets calling for an end to the government's austerity measures and demanding quick solutions to outstanding cases of public corruption.
The arrested demonstrators, including nine minors, were charged with vandalism and disturbing the peace. The arrests were made in several areas in downtown Madrid, including Paseo de las Delicias, Lavapiés and Hospital street near the Atocha roundabout.
Overall, the mass protest, which was dubbed the "human wave," was held peacefully. Similar demonstrations were also held in 16 cities across Spain, including Barcelona, Valencia and Vigo.
In Madrid, marches began at different points in the Spanish capital and they converged at Neptune square near Congress. Riot police blocked off a wide area around the parliament building, the Ritz Hotel and the stock exchange.
It is true that Rajoy will remain in office but it is going to be difficult for them to ignore us"
About 40 people were hurt in scuffles, including a dozen police officers, but none seriously, authorities said Sunday. Some protestors set trash bins on fire and threw rocks at riot police but the level of violent confrontation did not reach that of protests held last fall in front of Congress. However, authorities said that they had discovered several unused Molotov cocktails in different areas.
The protest marches, which began at around 4.30pm, were made up of citizens from all walks of Spanish life chanting anti-government slogans, including issuing calls for Prime Minister Mariano Rajoy to resign. Near Atocha, vandals ripped away chairs and tables that had been chained to a post near a sidewalk café. Burning trash bins were also pushed into the street in Paseo de las Delicias.
This was the latest protest against Rajoy's government which, besides coming under fire for the painful cutbacks to social and medical services, has been rocked by corruption allegations focusing on a purported slush fund his Popular Party (PP) set up to pay out bonuses to top officials. The claims stem from a series of balance sheets allegedly penned by former PP treasurer Luis Bárcenas which recorded names and amounts dished out over an almost 20-year period. Rajoy, who has denied receiving any bonuses, is said to have received some 320,000 euros over that time.
Money coming in from contributions made by companies and businessmen were also recorded. If the amounts of some of the donations are correct, they could be in violation of the political financing laws, investigators have said.
Referring to the money that was allegedly handed out in paper envelopes, people during the march chanted: "My cutbacks, your envelopes." Hundreds of placards were seen in the massive crowds with drawings of envelopes and return addresses that read: L. Bárcenas.
"I have attended all the demonstrations. There are people here who believe [the politicians] are worthless. It is true that Rajoy will remain in office but when there are more people coming out each time to protest, it is going to be difficult for them to ignore us," said Alejandro, a 30-year-old master's candidate in agrobiology.
"When I graduate, I know that I am going to have to leave Spain. That is why I am taking English classes," he added.
Some 1,400 riot police officers were on duty on Saturday.
The demonstrations were held on the 32nd anniversary of the attempted coup led by Civil Guard Lt. Col. Antonio Tejero.